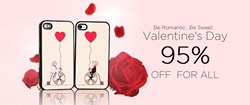 Hong Kong, China (PRWEB) February 07, 2014
To get into the true spirit of Valentine's Day this year, BagsQ.com is extending their special promotion to February 17.
While BagsQ already offers hugely discounted, high-quality fashion and fashion accessory items, they are taking affordability to the last frontier, with their 85 percent discount on iPhone cases, Samsung cases and iPad cases. This forms part of their Valentine's Day promotion, which kicks off on February the 10th, but the super savings don't end there.
Following on from the 85 percent savings, BagsQ is also implementing a colossal 95 percent discount on all items in store, with this ultimate promotion kicking off on February 14 and running all the way up to February 17.
This is just another way through which the China-based retailer and fashion leader is bringing all the best in quality products to all markets, with their extensive and interactive online platform granting quick and easy access to all discerning online shoppers.
85-95 percent discounts are worth at least a look-in and are huge, by any stretch of the imagination, something which is very quickly becoming synonymous with bagsq.com.