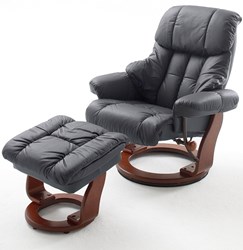 (PRWEB UK) 8 February 2014
Furniture in Fashion launches premier grade recliner relax chairs with foot stools. The recent introduction is a valuable modification in its functional budget oriented furniture for home and office. The introduction by the company will prove to be a boon for those looking for modern furniture that is chic, technologically advanced yet easy on wallet.
The recliner chairs are in huge demand among office goers these days. It is a wonderful option to relax at the office or at home after a full day's hard work. The chairs help users relax. The reclining chairs with matching stool guarantee to do wonders for user's health. In fact, these chairs facilitate owners enjoy a minute of peace and strength.
The chairs are precisely designed to ensure multifunctionality to modern users. These are ideal to fit in both modern and traditional home decor. The recliner relax chair is equipped with special stitching and extra soft comfort cushion to facilitate a floating sensation to the user. Another important feature of this chair is the super-soft leather. User will feel like a second skin on the recliner relax chair.
With the 360° rotating function, once will never have to lose out on what's happening around. The major highlight of the chair from furniture stores is its continuous adjustment of backrest. One can do this singlehandedly. These chairs have been specifically designed in a fashion to offer consumers relaxation at a very high level.
Another highlight of this chair by Furniture in Fashion is its style. Built in elegant design with superior grade materials and intelligent function, the chair is a classic example of high quality furniture apt for relaxing and lazing through the day as per your convenience. Some of the other important features of the recliner chair includes rotatable arm, backrest through body pressure to the desired relax position, highly adjustable padded armrest and head game that is manually adjustable in inclination
"The 360° swivel function is one of the striking features of this chair. The Backrest is adjustable by body weight. The stool comes with practical hinged storage compartment" said the Chairman of Furniture in Fashion in a recent announcement for recliner relax chair.
The chair is available with ergonomic seating position upholstery and polyurethane foam. The frame wood walnut finish turntable around will make for an incredible addition to any home or office.
Furniture in Fashion is an established online organization holding expertise in manufacturing stylish high quality furniture for dining room, living room, kids room, bedroom, hallway, and office. For more information visit http://www.furnitureinfashion.net.