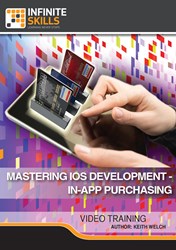 Learn Mastering iOS Development - In-App Purchasing at your own pace.
(PRWEB) February 07, 2014
Software training firm Infinite Skills Inc. this week introduced its "Mastering iOS Development - In-App Purchases Tutorial," an advanced-level course designed for iOS app developers looking to include additional purchasing opportunities inside iOS apps.
iOS has several options for providing consumers with the opportunity to make additional purchases beyond the initial purchase or free download of an iOS app. Basic examples include interaction with Apple iTunes, iBooks, and App Store, in-app iAds, as well as unlocking features within the app itself, all creating additional income for the developer and extended services for the user.
Infinite Skills' Mastering iOS Development - In-App Purchases Tutorial provides instruction and examples for each of these options, allowing developers to begin including in-app purchase options in their iOS apps after only a few concise lessons.
Mastering iOS Development - In-App Purchasing Tutorial - Streaming Video
Course author Keith Welch has spent more than 30 years working in the software industry, with 10 years working in .NET technologies, and the last 10 years focusing on mobile development. His many proficiencies include iOS, Android, Windows Mobile, ASP.NET, and more. Welch currently specializes in mobile developer tools, development consulting, and custom app development.
After a brief course introduction, Welch explores the new Store Kit Store Product View Controller, the basic framework that Apple provides to enable in-app purchases through the App Store.
From there, the course looks at various options for in-app purchasing and explains how to set up your app with Apple to enable these options.
Welch demonstrates how to use the Sandbox to create a local environment for testing your new features, as well as how to create purchase items in the app, including lessons on the actual purchase transaction, implementing subscription purchasing, and options for selling hosted content.
The course also covers producing receipts, along with receipt verification and server validation.
"In-app purchases are a very effective way of generating income," Welch explains.
"At this time, Android has a large lead in terms of new devices being shipped. However, Apple still has a large lead in the amount of income developers receive from apps, about five-fold at the latest count. A lot of this revenue comes from in-app purchases, which provide a way to offer extra services and make money beyond the original app price."
Free demo videos and a full list of course contents can be found on the Mastering iOS - In-App Purchasing training page of the Infinite Skills website: http://www.infiniteskills.com/training/mastering-ios-development-in-app-purchasing.html.
Infinite Skills offers its Mastering iOS - In-App Purchasing Tutorial as a direct download from the company website at a retail price of $24.95. All titles and formats are compatible with Mac and Windows operating systems. Shipping is available around the globe. Additionally, Infinite Skills tutorials are supported by project files which correspond to examples in the videos, allowing users to work alongside experienced instructors right on their computer or iPad.
About Infinite Skills Inc.
A leader in the field of software training, Infinite Skills designs its courses on a task-oriented model, teaching complex skills by providing hands-on examples and guiding users as they carry out essential functions. Infinite Skills offers a wide range of software titles available as DVDs, digital downloads, and in iPad editions. Infinite Skills now offers a subscription service, providing access to all its training content for a monthly fee, keeping with company's aim of delivering professional training to customers anywhere they want to learn.