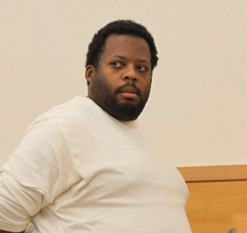 These two men being exonerated is part of a much bigger story in New York City.
New York, NY (PRWEB) February 06, 2014
I represent Sharrif Wilson. His co-defendant, Antonio "Tony" Yarbough, is represented by Zachary Margulis-Ohuma and Philip Smallman.
We have sought release of our clients who have been incarcerated since June 1992. They were convicted for the triple homicide of Yarbough's mother, 12 year-old sister, and another 12 year-old girl.
The hearing, February 6th, at 2pm est, was heard by the Honorable Luis Guzman, Justice New York Supreme Court, Criminal Term, Kings County (320 Jay Street, 19th Floor) Case No. 7325-92. The newly-elected Kings County District Attorney, Ken Thompson, arranged for Yarbough to be brought down from Attica, so he could be in court on this afternoon.
At this time, both Yarbough and Wilson have been freed and their cases dismissed on consent of the District Attorney.
Wilson had been previously brought down to Riker's from an upstate prison. He has been here for several months while I have been coordinating the final phase of the exoneration investigation with one of the senior homicide prosecutors in Brooklyn, Assistant District Attorney Mark Hale.
These two men being exonerated is part of a much bigger story in New York City. There are now many exoneration cases that have recently flooded the Brooklyn DA's Office following the March 2013 exoneration of David Ranta. That non-DNA case resulted from a false confession. As a result, every case made by Detective Louis Scancarella has been cast in doubt. The cases of Wilson and Yarbough also involve false confessions (as well as DNA) but with different detectives, so these exonerations will lead to even more cases being questioned.
To read more on the case background, please click here.
Law Offices of Adam D. Perlmutter
260 Madison Avenue Suite 1800
New York, New York 10016
http://adplegal.com/