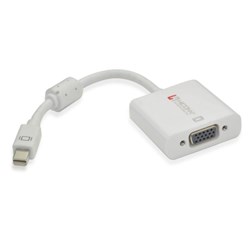 (PRWEB) February 08, 2014
Recently, Hiconn Electronics, a famous electronics device company in the world, has released its new designs of Active Mini DisplayPort 1.2 to VGA Adapters. According to the CEO of the company, all the brand new items are made from the best materials and function very well. More importantly, they are now available at discounted prices, up to 30% off.
True enough, Hiconn Electronics has been working in the electronics industry for several years. In its online shop, it is selling a wide variety of high end items, including Mini DisplayPort 1.2 to HDMI 1.4 adapters, HDMI to VGA Adapters, VGA+R/L Audio to HDMI Converters and so on. All of them are promised to be practical and durable.
Here is the product description of the company's Active Mini DisplayPort 1.2 to VGA Adapters:
Model No.: MDP-V2
Approvals: CE-FCC-RoHs2-REACH
Packing Info. : 50PCs/CTN
Payment Terms: L/C-T/T-Western Union-Paypal
Minimum Order Quantity: 10PCS
Brief Description: The active mini DisplayPort 1.2 to VGA adapter supports combine multiple displays,max.six displays from a signal output.
Target Markets: Africa-Asia-Eastern Europe-Northern Europe-Latin America-North America-Oceania-Western & Southern Europe
Type 2 Dual-Mode DisplayPort video adapter registers
Compliant Intel core I3/I5/I7 GPU's motherboard and ATI Eyefinity hardware
Fully compliant DisplayPort input
Full HDCP 1.3 content protection support
Support SVGA, XGA, SXGA, and UXGA at 162 MHz pixel rate
Suitable for AMD Eyefinity technology
Supports combine up to six displays from a signal output
The CEO says," We are pleased to announce our new products. I believe that they will sell well in the global market. Please pay attention that the special offer will last until the end of this month. If you are interested in our new items, please visit our online shop as soon as you can."
About Hiconn Electronics
Hiconn Electronics (Shenzhen Hiconn Electronics Co. Ltd.) is devoted to designing and manufacturing a wide range of connection cables and customized cable assemblies, offering many HDMI cables, VGA cables, SATA cables, USB cables, 1394 cables, DVI cables, SCSI (Small Computer System Interface) and more. For more information, please visit http://www.hiconn.net/.
Contact Person: James Yin (Sales Director)
Company Name: Shenzhen Hiconn Electronics Co., Ltd.
Address: Shenghua Building., Xixiang Road., Baoan District, Shenzhen, Guangdong Province, China
Zip Code: 518102
Tel: +86-755-8109 8345
Fax:+86-755-2779 3497