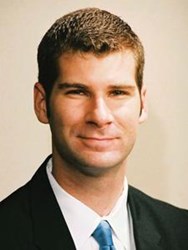 Hoboken, NJ (PRWEB) February 08, 2014
Cybersecurity expert Peter Singer will visit Stevens Institute of Technology on February 12, 2014, to discuss his most recent book, Cybersecurity and Cyberwar: What Everyone Needs to Know (Oxford University Press, 2014).
In his lecture, Singer will highlight how modern living, from communication to commerce to conflict, fundamentally depends on the Internet, and how the cybersecurity issues that result affect virtually everybody on some level. He will discuss the new questions we face in everything from our rights and responsibilities as citizens of both the online and real world to how to protect ourselves from a new type of danger.
Trained at Harvard and Princeton, Singer is a senior fellow at The Brookings Institution and director of the 21st Century Defense Initiative, the world's biggest think-tank on changes in war and implications for American security. Singer's research focuses on three core issues: the impact of new technologies on war, current U.S. military defense needs and future priorities, and the future of the U.S. defense system. A frequent lecturer to U.S. military audiences, Singer is the author of several books and articles, including Wired for War: The Robotics Revolution and Conflict in the 21st Century.
The Deans' Seminar Series featuring Singer will be held in Babbio Auditorium at Stevens from 4-5:30 p.m. and is free and open to all Stevens faculty, students, staff and the public. The event is co-sponsored by the Stevens Center for Science Writings at the College of Arts and Letters.
Media wishing to attend this lecture should contact Danielle Woodruffe, Director of Public Relations 201.216.5139 or dwoodruf(at)stevens(dot)edu. For more information, visit the Deans' Seminar Series event page.
About Stevens Institute of Technology
Stevens Institute of Technology, The Innovation University®, is a premier, private research university situated in Hoboken, N.J. overlooking the Manhattan skyline. Founded in 1870, technological innovation has been the hallmark and legacy of Stevens' education and research programs for more than 140 years. Within the university's three schools and one college, more than 6,100 undergraduate and graduate students collaborate with more than 350 faculty members in an interdisciplinary, student-centric, entrepreneurial environment to advance the frontiers of science and leverage technology to confront global challenges. Stevens is home to three national research centers of excellence, as well as joint research programs focused on critical industries such as healthcare, energy, finance, defense and STEM education and coastal sustainability. The university is consistently ranked among the nation's elite for return on investment for students, career services programs and mid-career salaries of alumni. Stevens is in the midst of a 10-year strategic plan, The Future. Ours to Create., designed to further extend the Stevens legacy to create a forward-looking and far-reaching institution with global impact.