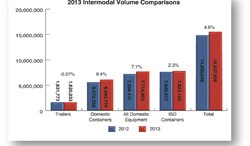 Calverton, MD (PRWEB) February 06, 2014
Cementing its role in the North American supply chain, the value of intermodal transport speaks for itself with another year of solid growth. Building on the industry's positive 2012 performance, total shipments improved 4.6 percent in 2013, according to the Intermodal Association of North America's (IANA) fourth quarter and year-end Intermodal Market Trends & Statistics. Domestic container volume — which doubled over the past ten years — outperformed other markets in 2013, capping the year with a 9.4 percent bump, which was consistent with Q4 growth of this segment at 9.0 percent.
These benchmarks echo Ten Years After: The Second Intermodal Revolution, a recently-released white paper sponsored by the Association of American Railroads and IANA, which states in certain terms that intermodal has become an accepted shipper choice for both international and domestic goods movement and is currently the largest rail commodity by revenue. Moving from marginal to profitable, author Anthony "Tony" Hatch credits intermodal with allowing rails to move back up the value chain, driving the "Railroad Renaissance," and predicts intermodal's success is still in the "early innings stage."
"This has been a banner year and quarter for intermodal, underscoring the strong alternative it provides to over-the-road transport," said Joni Casey, president and CEO of IANA. "All markets performed exceptionally well during the fourth quarter, with both international and intermodal trailers recording their best improvement in years."
International intermodal continued its comeback from previous quarters and recorded growth of 2.3 percent in 2013, as compared to 1.8 percent in 2012. Q4 2013 for the same sector jumped a solid 5.9 percent over Q4 2012. Due to depressed Q4 2012 loadings, a bump in international containers was expected, but this quarter's uptick was enough to suggest a trend rather than easy year-over-year comparisons.
The increase posted by trailers was particularly impressive in Q4, reaching almost 5 percent and nearly reversing exceptionally slow performance in the first part of the year. Overall, trailer shipments ended the year only 0.7 percent below 2012.
Of the seven largest volume corridors within the United States, the Midwest-Southwest was the clear winner; the lane expanded a notable 12.9 percent when compared with last year's Q4. The intra-Southeast also beat industry expectations, due to a marked domestic container boost. Overall, key corridor growth rose 5.9 percent during the quarter.
When comparing fourth quarter regional traffic, the Southeast posted the highest gains, with a 10.4 percent year-over-year increase. This was due in large part to the region's exposure to domestic containers. The Mountain Central, Northeast and Midwest regions also rose just under 10 percent. The Northwest region underperformed, largely attributable to a sharp drop in international intermodal volumes.
Intermodal Market Trends & Statistics is published quarterly by IANA and is available on a subscription and individual copy basis. Members of the press may request a sample copy of the Q4 2013 Intermodal Market Trends & Statistics from Tara Mullen at tara(at)intermodal(dot)org. The report features detailed analyses and reproducible graphical representations of Q4 2013 results.
Ten Years After: The Second Intermodal Revolution is available on IANA's website by clicking http://www.intermodal.org/information/research/assets/tenyrsafter.pdf.
About IANA
IANA is North America's only industry trade association that represents the combined interests of the intermodal freight industry. The association's mission is to promote the growth of efficient intermodal freight transportation through innovation, education and dialogue. The association offers valuable information and services specific to the intermodal industry encompassing consensus business solutions that facilitate: operations, regulatory compliance, and policy issue management. IANA's membership roster of over 1,000 members represents the diverse companies critical to moving freight efficiently and safely. IANA provides a discussion forum for the many types of stakeholders along the supply chain, resulting in a strong unified voice advocating the needs of intermodal freight transportation. For more information, visit http://www.intermodal.org.