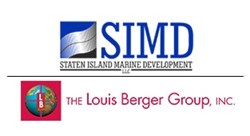 Louis Berger will support our clients by having experts available on call to review project documents and controls, site work methodology and economic development spending documentation.
Morristown, NJ (PRWEB) February 06, 2014
The Louis Berger Group, Inc. (Louis Berger) today announced it has been awarded a contract to provide engineering oversight in support of CanAm Enterprises' investment in the redevelopment of the former GATX Corporation petroleum storage facility site, which is being performed by Staten Island Marine Development (SIMD) in Staten Island, N.Y.
The project entails importing approximately 6.5 million cubic yards of processed dredge sediment and other materials to the site in order to cap the site and bring it above flood hazard elevations for future vertical development. The site will be 14.5 feet above sea level after the first phase of the project's horizontal development is completed. SIMD is responsible for ensuring the integrity of any imported fill material used at the site. A fill import database is being developed, and a third party Independent Environmental Monitor is providing direct project oversight on behalf of the New York State Department of Environmental Conservation.
This private mixed-use project will result in an approximately 330 acres of land suitable for development and construction. Louis Berger has previously managed similar brownfield redevelopment projects to return to productivity underutilized industrial sites.
"Louis Berger's proficiency in economic modeling and impact tracking, dredge material management and reuse, geotechnical engineering and construction and program management will support our clients by having experts available on call to review project documents and controls, site work methodology and economic development spending documentation," said Tom Lewis, president of Louis Berger.
The project also includes the preservation, through deed restriction, of approximately 245 acres of on-site wetlands, adjacent areas and open space. The final vertical development, to be completed after installation of the final surface cover, plans to include a major logistics and warehouse center and a marine terminal facility.
About The Louis Berger Group, Inc.
The Louis Berger Group is an internationally recognized consulting firm that provides engineering, architecture, program and construction management, environmental planning and science and economic development services. We are a trusted partner to federal, state and local government agencies; multilateral institutions; and commercial industry. To this diverse client base, we bring strategic vision and an entrepreneurial spirit, developing innovative solutions to some of the world's most challenging problems. With a resource base of more than 6,000 professionals and affiliate employees in more than 50 countries, we are able to respond to local conditions while providing clients with the technical resources and rapid response capabilities of a leading global organization.
About SIMD
Staten Island Marine Development is dedicated to the completion of the effective remediation and redevelopment of the former International Speedway property on Staten Island to protect and restore the environment, provide additional flood protection through the permanent deed restriction of wetlands, and the commercial development of the site to create jobs and stimulate the area economy through marine-oriented economic activity. The SIMD is a private entity limited liability company. The company, which has maintained an office in Staten Island for two years, is honored to be a member of the Staten Island community.