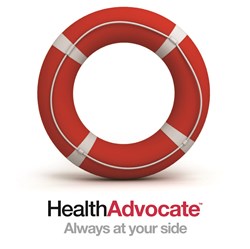 Effectively coordinating care for a population with multiple chronic conditions is critical to improving health outcomes and managing utilization and costs.
Plymouth Meeting, PA (PRWEB) February 10, 2014
Health Advocate, Inc., the nation's leading independent healthcare advocacy and assistance company, has partnered with the Greater Philadelphia Business Coalition on Health to present "The Value of Integrated Population Health: Why Chronic Conditions Still Matter to Employers" on Wednesday, February 19, 2014 at the Health Advocate headquarters in Plymouth Meeting, PA.
"Effectively coordinating care for a population with multiple chronic conditions is critical to improving health outcomes and managing utilization and costs," says Es Nash, M.D., Health Advocate's Vice President and Medical Director for Comprehensive Care Programs, and featured presenter for the event.
Employers, health plans, brokers and businesses concerned about the impact of chronic conditions on the health of their employee population, and their bottom line, should attend. The agenda will cover an overview of "population health" from the employer perspective in 2014; the role of chronic condition management in population health (and design features that work); and how integration fuels employee engagement in population health.
Attendees will also be presented with an example of an integrated model to empower health consumers, and hear from employers who have implemented this approach.
Details of the Event:
When: Wednesday, February 19, 8:30 a.m. - 10:30 a.m.
Continental breakfast will be served at 8 a.m.
Where: Health Advocate, 3043 Walton Road, Plymouth Meeting, PA 19462
Cost: There is no cost to attend
How to Register: Contact Patrick Croft, 215.800.1064 | pcroft(at)gpbch(dot)org
or click here to register online.
About Es Nash, M.D.
A national authority on population health with over 25 years of physician executive experience, Dr. Nash leads the development of Health Advocate's clinical condition programs. Previously, she was VP, Clinical Innovation and Strategy for OptumHealthSM (a division of United Health Group), where she led clinical wellness, decision support and incentives solutions to improve population health outcomes for over 60 million consumers.
Additionally, as Senior Medical Director, Population Health and Wellness for Independence Blue Cross, she was responsible for design and implementation of population health programs for over two million commercial and Medicare members.
Dr. Nash received both her BS and M.D. degrees from Brown University. She completed her internship and residency in internal medicine at The Graduate Hospital of the University of Pennsylvania, and is board certified by both the American Board of Internal Medicine and the American Board of Quality Assurance and Utilization Review Physicians. Dr. Nash has also earned the designation as a Certified Managed Care Executive from the American Association of Health Plans and Certified Professional in Electronic Health Records from Health IT Certification, and is a Fellow in the American College of Physicians.
About Health Advocate
Health Advocate™, Inc., is the nation's leading independent healthcare advocacy and assistance company, serving 40+ million Americans through more than 10,000 client relationships, including many of the nation's largest companies, by helping members personally navigate healthcare and insurance-related issues, saving time and money.
Our leading-edge solutions include EmpoweredHealth, a fully integrated program featuring a single 800#, that seamlessly combines health advocacy, wellness coaching, EAP+Work/Life and chronic care solutions. We also leverage the power of pricing transparency, personalized health communications and more to help members make more informed decisions and get more value out of the healthcare system. All supported by a powerful data analytics engine delivering improved health and financial results.
Founded in 2001 and headquartered in suburban Philadelphia, Health Advocate has received a range of awards including Workforce Management magazine's Optimas Award as the Worldwide Leader in Service, InformationWeek Top Tech Innovations, named for the seventh consecutive year as one of America's fastest growing private companies by Inc. 500, and is rated one of the Top 20 Best Places to Work by Philadelphia magazine.
Health Advocate is not affiliated with any insurance or third party provider.
Visit us at:
http://www.HealthAdvocate.com
http://www.HealthProponent.com
About the Greater Philadelphia Coalition on Health
Greater Philadelphia Business Coalition on Health (GPBCH) is a membership organization open to employers located in, or with a significant employed population in, the Greater Philadelphia region: Philadelphia, Montgomery, Bucks, Delaware and Chester Counties in Pennsylvania; Camden, Burlington and Gloucester Counties in New Jersey, and New Castle County in Delaware. Additionally, affiliated memberships are open to all individuals and organizations working with, or on behalf of, employers in the coalition's service region.
Our mission is to help members to work with health plans, health care providers and other system stakeholders to improve the value of health benefit spending for members by improving health care quality and safety and reducing health care costs.