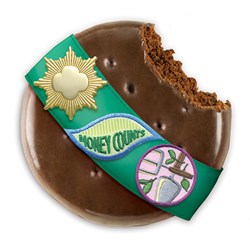 Ventura, CA (PRWEB) February 07, 2014
Girl Scouts of California's Central Coast (GSCCC) will mark the start of cookie booth season by celebrating National Girl Scout Cookie Weekend with an Open House event and Ribbon Cutting at its new Ventura Office today from 3:00 pm to 6:00 pm, and with Girl Scout Cookie booths at participating Yogurtland locations along California's Central Coast on Saturday, February 8. The annual cookie program aims to teach girls five essential life skills: goal setting, decision making, money management, business ethics, and people skills while supporting troop and council activities.
"Girl Scout Cookie Weekend is a great opportunity to share the fun and excitement of the Girl Scout Cookie Program with sister Girl Scouts across America," said Gina Jaeger, CEO of Girl Scouts of California's Central Coast. "Girls love selling cookies and they learn so much from this program. It's great to have a single weekend where girls and supporters from every city are honoring this 97 year-old tradition. In fact, the sale actually allows girls to become civic-mindful and give back to their communities in so many ways by participating in local activities, and through service projects that help make the world a better place."
Nine varieties of Girl Scout Cookies are available including: Thin Mints, Shortbread, Peanut Butter Patties, Carmel deLites, Peanut Butter Sandwich, Thanks-A-Lot, Lemonades, Cranberry Citrus Crisps (whole grain), and in a limited-availability test pilot, Gluten-Free Chocolate Chip Shortbread. All cookies sell for $4 per box, except for the Gluten-Free Chocolate Chip Shortbread which sells for $5 per box.
Supporters can also donate boxes of cookies to military service men and women overseas through the For the Troops service project by contacting a Girl Scout member or at any Cookie Booth location.
GSCCC Girl Scouts will be providing Cookie Booths at participating Yogurtland outlets from Noon to 8:00 pm, and in its Ventura Retail Shop for National Girl Scout Cookie Weekend on Saturday, February 8. Cookie Booths will be offered outside other participating retailers from February 14 through March 16. Cookies can be located by using the official Girl Scout Cookie Finder app, available free for iPhone or Android, or by entering a ZIP Code by visiting the Girl Scout Cookie page at http://www.girlscoutcookies.org.
The annual Girl Scout Cookie Sale helps troops earn funds to support their activities and helps sustain the council to provide volunteer training, program activities and property maintenance. One hundred percent of all Girl Scout Cookie proceeds stays local with the council and its members.
As part of their experience in various Girl Scout activities, girls can earn official Girl Scout awards at every level of Girl Scouting, including cookie and financial literacy badges and an annual Girl Scout Cookie Activity pin. In celebration of this special weekend, a brand-new National Girl Scout Cookie Weekend patch is now available as well.
ABOUT GSCCC
Girl Scouts of California's Central Coast serves over 10,000 girls across six counties and is committed to making Girl Scouting available to girls in ways that impact their lives both in the moment and into the future. Girls participate in troops, individual projects, council events, day camps, and more. A variety of leadership, outdoor skills, and Science, Technology, Engineering and Math (STEM) based programs and events provide girls with opportunities to learn and explore in fun and informative ways. To join or volunteer in Santa Cruz, San Benito, Monterey, San Luis Obispo, Santa Barbara or Ventura county, visit: http://www.girlscoutsccc.org.