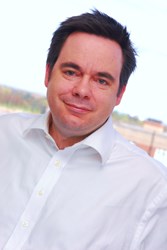 Our ability to innovate has enabled us to not only maintain our business, but is now underpinning the fastest growth we have seen since before the recession.
Edinburgh, Scotland (PRWEB UK) 7 February 2014
Investors in People Scotland Chief Executive Peter Russian is in the running for a top UK business award.
The Vistage Conference & Awards Ceremony will be held on February 7th 2014 and will mark Vistage's 25th year. Being held at Grosvenor House and hosted by Dara O'Briain, the ceremony will also hear from international speaker and bestseller Simon Sinek.
Nominated in the "Innovation" category, Mr Russian will compete against those who "took on difficult problems or challenged assumptions to innovate or transform a business strategy, product and/or process that created significant business growth."
Mr Russian commented: "Employers have found the past few years a really tough environment, and our ability to innovate has enabled us to not only maintain our business, but is now underpinning the fastest growth we have seen since before the recession. Being part of the Vistage Network has given us the confidence to develop new approaches and products which will help us achieve our goal of transforming the way people are led, managed and developed in Scotland."