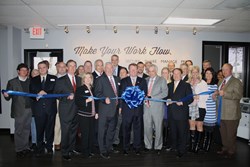 "Our new, larger Tupelo branch office demonstrates our growth in the area and our commitment to bringing the latest and greatest technology to the Tupelo business community."
Nashville, Tennessee (PRWEB) February 07, 2014
Tuesday, RJ Young executives and employees, Tupelo Chamber of Commerce officials, Tupelo area political dignitaries, and area business leaders celebrated the company's new office located at 1893 Cliff Gookin Boulevard in Tupelo with a formal ribbon cutting ceremony. The ceremony was followed by lunch and the unveiling of a new Canon sponsored Technology Portal that showcased cutting edge technology solutions.
"Our new, larger Tupelo branch office demonstrates our growth in the area and our commitment to bringing the latest and greatest technology to the Tupelo business community," said Chip Crunk, President & CEO of RJ Young. "This Technology Portal allows customers to test drive solutions in person," said Crunk.
Among the group of attendees were Chip Crunk, President and CEO of RJ Young headquartered in Nashville, Tennessee, Jason Shelton, Mayor of the City of Tupelo, and Chauncey Godwin, Jr., Chairman of the Community Development Foundation Board of Directors.
RJ Young has served the Tupelo area for over a decade. The new RJ Young office is located at 1893 Cliff Gookin Boulevard, Suite A, Tupelo, MS 38801. The 3,800 square foot office space is home to the RJ Young Sales and Service team members and supports the city of Tupelo as well as numerous surrounding counties including Lee, Prentiss, and Pontotoc.
About RJ Young
RJ Young is the largest independent office equipment and business technology provider in the Southeast. They offer the latest technology to scan, secure, share, manage and print information efficiently. RJ Young has been in business for over 58 years. They are headquartered in Nashville, Tennessee and have over 450 employees throughout five states and 20 locations. For RJ Young's complete range of products and services, visit http://www.RJYoung.com.
#