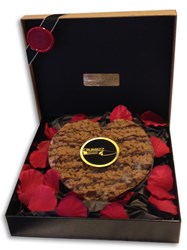 "To honor the four hundred year old family recipe, we search the world for the finest ingredients in the world."
Forney, TX (PRWEB) February 08, 2014
Enthusiasts rave not only about their cakes but also their beautiful packaging. Each cake is nestled in black belted leather finished boxes, wrapped in imported Jacquard ribbons and sealed with an old-world wax seal. The Valentines Day cakes are also surrounded by silk rose petals and a "Commitment To Excellence" card that is dated and personally signed by the creating chef. In addition, the company also provides gold plated gift cards with the senders personalized message.
Famous for their cinnamon streusel crumb cake which are created from the 400-year old family recipe from Austria, this Forney, TX based company has been shipping its crumb cakes worldwide for over 20-years.
Crumbzz enthusiasts can be found in every state of the union, Canada, Mexico, Europe and even Afghanistan, where the company began shipping cakes to soldiers in 2012.
Crumb Cakes, with their golden brown crumb topping, covering a moist yellow cake, are well known in the Northeast and parts of Europe, particularly Germany and Austria (where they originated). In the rest of the U.S., they are a relatively new phenomena.
The owner and Executive Chef, J Stephen Sadler's stated mission is "to honor the family recipe by using the finest ingredients in the world." And as a result, the ingredients in each cake reads like a tour across the globe. Bourbon Vanilla from Madagascar, Saigon Cinnamon from Vietnam, Dark Muscovado Brown Sugar from The Mauritius, European low gluten flour and Hungarian Lekvar Preserves, are all found in the company's cakes.
The chocolate and raspberry Valentines Day cake is no exception, with chocolate from Tanzania and raspberry filling from Hungary.
Retailing for $22.95 + shipping, Crumbzz Valentines cakes can be ordered at the company's web site (http://www.crumbzz.com) by phone (214.541.9665) or by email (greatcakes(at)crumbzz(dot)com).