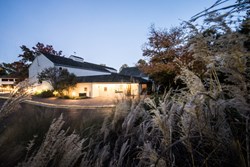 Vienna, VA (PRWEB) February 06, 2014
Habib Koité
Wednesday, March 5, 2014 at 8 pm
$35
Habib Koité, credited as "Mali's biggest pop star" (Rolling Stone), has gained international recognition for creating his own distinctive guitar style. His musical approach is a reflection of his life experience—combining traditional West African music with global folk and rock, which Koité calls danssa doso. Koité will release his sixth album, Soô—a term which translates to "home"—on February 25, 2014. On the record, he plays a variety of instruments, including the banjo, and collaborates with a fresh group of musicians and engineers, including his son.
Video: Habib Koité - "Drapeau"
Edgar Meyer and Mike Marshall
Thursday, March 6, 2014 at 8 pm
$40-$48
The collaboration of Edgar Meyer and Mike Marshall not only demonstrates musical talent, but is also an example of a lasting friendship based on music. The two have been performing together for more than 20 years, and have built up a repertoire comprised of everything from Bach duets, to Brazilian choros, to their own original fiddle pieces. Over the years, Marshall and Meyer performed together in a quartet along with legendary bluegrass musician Sam Bush and violinist Joshua Bell. The quartet's album Short Trip Home (1999) was nominated for a Grammy Award for Best Classical Crossover Album. In a two-for-one special at The Barns at Wolf Trap, audiences can enjoy both Meyer's compositions and passionate performances on the double bass, as well as Marshall's expertise on the mandolin and the guitar.
Video: Edgar Meyer – "Cello Suite No. 2, Prelude BWV 1008"
Video: Mike Marshall – "Bach Partita in C major – Presto"
Winterreise
Ryan McKinny, bass-baritone
Kim Pensinger Witman, pianist
The Discovery Series
Friday March 7, 2014 at 8 pm
$35
Wolf Trap Opera Company alumnus Ryan McKinny—who has been praised for his "elegant and articulate" vocals (Orange County News)—returns to The Barns as part of The Discovery Series to perform Schubert's emotional tribute to lost love in Winterreise. He will be performing with Wolf Trap Opera Company director and pianist Kim Pensinger Witman. McKinny, who is also an alumnus of the Houston Grand Opera Studio, has performed a number of roles on the main stage, including Figaro in Le nozze di Figaro, Ramfis in Aida, Peter in Hänsel und Gretel, Masetto in Don Giovanni, Zuniga in Carmen, Don Pedro in Béatrice et Bénédict, Theseus in A Midsummer Night's Dream, Sam in Un ballo in maschera, Flint in Billy Budd, and Pietro in Simon Boccanegra.
Enter The Haggis
Saturday, March 8, 2014 at 7:30 pm
$25
On March 30, 2013 Enter The Haggis released their new album, The Modest Revolution, which was entirely based on news stories published in the March 30, 2012 edition of The Globe and Mail newspaper. It is exactly that creative and optimistic spirit, along with their crafty storytelling and bagpipe blasting, that has inspired thousands of "Haggis Heads" around the world. Enter The Haggis members—Trevor Lewington, Brian Buchanan, Craig Downie, Mark Abraham, and Bruce McCarthy—master a wide array of instruments including the fiddle, accordion, whistles, ukulele, and bagpipes. The group recently launched The Penny Black Project, where they ask fans to send in stories that will serve as the musical inspiration for their next album.
Video: Enter The Haggis – "Can't Trust The News"
The Oak Ridge Boys
Sunday, March 9, 2014 at 3 pm and 7 pm
$55
The Oak Ridge Boys are synonymous with an iconic blend of gospel, blues, country, and rock. The group is made up of four singers: Duane Allen (lead), William Lee "Mountain Man" Golden (baritone), Richard Sterban (bass), and Joe Bonsall (tenor). Since they united in 1973, these five-time Grammy-winning legends have recorded more than 40 country and gospel albums. Some of their most noted songs are "American Made," "Elvira," and "Bobby Sue." Additionally, the group has won four Country Music Awards, six Billboard Awards, and was inducted into the Grand Ole Opry in 2011. To celebrate their 40th anniversary last year, The Oak Ridge Boys released Faith, Family, & Freedom, an album that revisits some of their most treasured songs such as "Thank God for Kids" and "Leaving Louisiana in the Broad Daylight."
Video: The Oak Ridge Boys – "Elvira"
Tickets can be purchased by calling 1.877.WOLFTRAP or online at wolftrap.org.
For more information, call The Barns at Wolf Trap at 703.938.2404 or our general information line at 703.255.1900.
High-resolution images of the artists listed are available on Wolf Trap's website: wolftrap.org/Media_and_Newsroom/Photos_for_Publication.aspx.