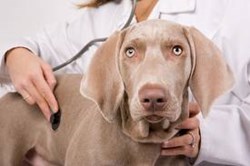 Awesome vets! They always treat my precious 'Rocky' gently. Big thumbs up! - Tracy M
Escondido, CA (PRWEB) February 08, 2014
Parkway Pet Clinic highly recommends blood work as an integral part of your pet's annual exam. Aside from helping diagnose disease at the earliest possible time, it can also help you avoid expensive medical bills.
Unlike people, pets are unable to say how they are feeling. When there is something wrong, this is usually conveyed in how they look or act. Knowing how to recognize these warning signs coupled with routine physical exams and blood work can help ensure a long, healthy and happy life for your pet.
Parkway Pet Clinic is an affordable-full service San Diego veterinarian hospital that recommends blood work in the following situations:

When your pet is sick and brought in to the clinic, doing blood work can help our veterinary staff assess, diagnose, and decide on the treatment regimen as soon as possible.
Since your pet can be suffering from a disease without showing specific symptoms, blood work becomes an important tool in preventive care screening.
Blood work is indicated before your pet undergoes surgery, dental work, or any other procedure that needs anesthesia. This is usually done on the same day as the procedure so your pet will only be fasted once. The results of the blood work can help our veterinary staff determine if it is safe for your pet to undergo anesthesia or whether there is still a need to make some adjustments.
It is a good practice to include blood work in any elderly dog's annual health exam. Many owners assume that stiffness and depression in senior dogs are just part of the aging process; however, blood tests may reveal that these are actually signs of diseases.
Monitoring of side effects to medication
If your dog or cat is undergoing medication for a specific condition, periodic blood work is indicated to monitor any side effects. The earlier the problems are identified, the easier it will be for your veterinarian to make necessary changes before serious side effects can become life-threatening.
Common Blood Tests Routinely Indicated for Pets:
Complete Blood Count (CBC)
This is the most common blood test that is performed on pets. The results of the procedure provide information on the presence of an infection, anemia, the status of the immune system, blood's clotting ability, as well as your pet's hydration status. CBC is indicated for pets suffering from fever, gastrointestinal problems (vomiting and/or diarrhea), and loss of appetite, fever, pale gums, and weakness.
Red Blood Cell Count (RBC)
RBC is a measurement of the total number of red blood cells (RBC) per volume of blood. It is an important test for detecting anemia and other disorders affecting RBCs.
White Blood Cell Count (WBC)
WBC is a test that measures the immune cells of the body. Any increase or decrease in the number of these cells may indicate the existence of diseases, infections or inflammatory process.
These are blood serum tests which are indicated to assess the organ function, electrolyte status, levels of specific body hormones, etc. Blood chemistry is important when evaluating pets undergoing long-term medications, digestive problems (vomiting and/or diarrhea) and exposure to toxins. Blood chemistry encompasses a series of tests that evaluate the function of vital organs particularly the kidneys, liver, pancreas, and thyroid gland.
Parkway Pet Clinic offers in-house laboratory blood work helping you save precious time while sparing you from worrying about your pet's health especially when results are normal. 
Contact Parkway Pet Clinic today and Dr. William Henderson (760) 743-0973 to schedule an appointment or speak with our friendly staff to learn more about blood work and your pet.