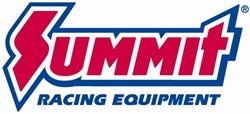 Tallmadge, OH (PRWEB) February 10, 2014
Capable of supporting up to 600 horsepower, the E-Street system has an all-new throttle body that fits any square-bore, four-barrel intake manifold. Even better, the E-Street system has easy-to-use software on the included Android tablet so an enthusiast can get up and running with the ECU's baseline tune, then fine-tune and monitor system performance without the need for a laptop.
The throttle body is fully assembled with injectors, fuel rails, linkage, and sensors, making it about as close to bolt-on-and-go EFI as you can get.The system even automatically adjusts for engine upgrades.
Other features include:

Wide band O2 sensor
Fully assembled OEM-quality wiring harness with preterminated connectors
Progressive throttle linkage for great driveability and increased mileage potential)
Touch screen Android tablet with wireless Bluetooth connectivity to the ECU to create, modify, and save unlimited tunes
Self mapping fuel curve to correct and dial-in your tune (no tuning experience needed
Control over electric fan and A/C relays
Preprogrammed dashboards for monitoring system performance
The Edelbrock E-Street EFI System comes with an EFI sump kit that allows the use of the existing mechanical or low-pressure electric fuel pump—no need to plumb a return line or upgrade to an expensive high-pressure fuel pump. The self-contained system delivers a choice of 49 or 60 psi of fuel pressure and fits under the hood on most any vehicle. The kit includes the fuel sump tank with preinstalled high-pressure pump and regulator, wiring harness, mounting bracket, hose, fittings, and all necessary hardware.
SEE THE EDELBROCK E-STREET EFI SYSTEM AT SUMMIT RACING
Summit Racing Equipment
http://www.SummitRacing.com
1-800-230-3030