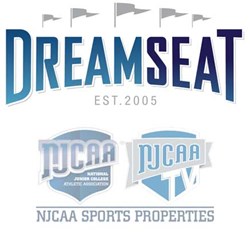 Colorado Springs, CO (PRWEB) February 06, 2014
The National Junior College Athletic Association (NJCAA), in conjunction with its multimedia rights group NJCAA Sports Properties, has reached a corporate sponsorship agreement with DreamSeat/Seating Solutions, naming the company the Official Stadium Seating and Branded Furniture Supplier of the NJCAA.
DreamSeat offers a full line of locker room, office, lobby, lounge, and press box interchangeable furniture that can be branded with college or team logos. They also supply cost-effective stadium seats called BleaChair, which upgrades existing bleacher benches to comfortable and revenue generating chair-back seating. DreamSeat's sister company, Seating Solutions, supplies bleachers for sale and rental, in addition to press boxes, scorer's platforms, and stadium tip-up seating. They have offices in New York and Texas, and they also service all over the country.
Per terms of the agreement, DreamSeat and Seating Solutions will offer exclusive pricing to NJCAA member colleges.
"Our member colleges are looking for effective ways to promote themselves and their brand," said NJCAA Executive Director Mary Ellen Leicht. "DreamSeat and Seating Solutions provides many great products that can help member colleges upgrade their facilities and departments while also creatively promoting their brand to their target audiences."
DreamSeat's patented line of XZipit custom logo furnishings offers an innovative, high quality, interchangeable logo system that is used throughout its entire furniture line including sofas, recliners, office chairs and more. The full line of XZipit logo furniture can be found in the offices, lounges and locker rooms of professional and collegiate athletic teams in addition to corporations, restaurants and residential homes across North America. XZipit allows you to zip on and off any custom logo of your choice in seconds, creating endless branding opportunities.
Seating Solutions specializes in custom, outside-the-box projects and develops turnkey spectator seating solutions. Their unique products include their BleaChair line of bucket seats that can be attached to any existing bleacher to upgrade the comfort, color, and revenue generating ability of current seating, as well as their Box Seat flip-up seat line, which is the most advanced stadium seat on the market.
About the NJCAA
Since 1938, the NJCAA has been the governing body of two-year college athletics, offering athletic and academic opportunities to college students. The NJCAA is the second largest national intercollegiate athletic organization in the United States with over 500 member schools in 43 states. Each year nearly 60,000 student-athletes compete in one of 28 different sports and the organization sponsors 48 national championship events and nine football bowl games. NJCAA Headquarters has been located in Colorado Springs, Colo., since 1985. For more information visit http://www.njcaa.org.