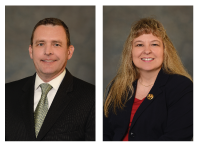 Rockford, IL (PRWEB) February 07, 2014
SupplyCore Inc. announced today it has added extensive years of combined business development and financial experience with the latest additions to its leadership team.
As the new Vice President of Business Development, Patrick Voller brings more than 25 years of experience managing international supply chains, most recently with Agility and New Breed Logistics. Previously, he completed an Army career as a logistics officer with assignments around the world, including work with the Defense Logistics Agency, overseeing international and domestic logistics missions. He earned a Master of Science in Logistics from Florida Institute of Technology and a Bachelor of Science in Business Administration from the University of Minnesota. At SupplyCore, he will coordinate client and supplier relations and will lead teams in business development processes, including opportunity identification, capture management, proposal development, and contract execution.
Chief Financial Officer Chris Albert brings more than 25 years of financial experience in the wholesale, aviation and financial service sectors, most recently as Controller for Textron. Albert holds a Bachelors of Science in Accounting from Rockford University, as well as her CPA certification. In addition to earning an MBA in International Business and Investing at Northern Illinois University, she is a Professor of Accounting in the MBA program at Rockford University. Albert remains active on the board of FEI (Financial Executives International) and has served on the board of IMA (institute of Management Accountants). In her new role at SupplyCore, she will provide financial oversight of the company, pricing for all proposals, management of IT teams in programming and infrastructure processes, and analysis of all real estate opportunities.
"We are excited to announce Patrick Voller is joining our team to lead SupplyCore's business development efforts. Patrick brings the passion and dedication of an Army officer along with significant experience navigating the international logistics landscape. The addition of Chris Albert as our Chief Financial Officer will greatly enhance SupplyCore's already stellar financial division. Her vast financial and management experience will serve us well as we continue to build our robust financial department." - Peter Provenzano, President & CEO
About SupplyCore
In business for over 25 years, SupplyCore is a supply chain management services and technology solutions integrator providing key support to US and foreign agencies, domestically, and abroad including at-risk environments. Our supply chain expertise includes procurement, warehousing, logistics, and facility support. Our technology solutions aid our supply chain management endeavors and enable cloud based collaborative solutions that support strategy execution and interorganizational case management. SupplyCore's mission is to best optimize the information, material, and financial flows of customer supply chains, and to improve the physical and human assets of the communities we serve.