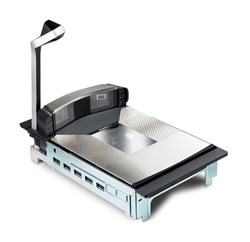 'We are proud to partner with Digimarc to be part of this exciting technology and a new Guinness record,' states Bill Parnell, CEO and President of Datalogic ADC.
Eugene OR (PRWEB) February 06, 2014
Datalogic, a global leader in the Automatic Data Capture market, manufactures and develops bar code scanners, mobile computers and vision systems. At the 2014 National Retail Federation Convention Datalogic technology helped Digimarc (NASDAQ: DMRC) set a new Guinness World Record for the fastest time to scan and bag 50 items. With a Guinness World Record adjudicator present, the Magellan™ 9800i multi-plane imaging scanner was used to scan 50 items which were then bagged.
Timing for the record was clocked in at 48.15 seconds – bettering the previous record of 75 seconds. The record was set by Digimarc's Ed Knudson, Executive Vice President, Sales and Marketing, and Sean Calhoon, Senior Director, Product Management, neither of whom have any professional checking or bagging experience. Adhering to the Guinness guidelines, the team switched scanning and bagging duties after 25 items, placed exactly 10 items in each bag and included the 2014 Guinness Book of World Records itself as the last item scanned. All 50 items appeared correctly on the printed receipt, stopping the clock to establish a game-changing pace of 62 items-per-minute.
Each item was marked with the Digimarc® Barcode. The Digimarc Barcode is invisibly distributed over the entire surface of the package, eliminating the need for clerks, as well as shoppers using self-checkout, to find and position the bar code toward the reader. The Magellan 9800i device is the only retail scanner currently equipped to read the Digimarc Barcode.
"We are proud to partner with Digimarc to be part of this exciting technology and a new Guinness record," states Bill Parnell, CEO and President of Datalogic ADC. "Our technology was used in the scanner that read the first bar code in 1974; and 40 years later our technology is reading the latest Digimarc Barcodes."
Datalogic ADC, the world leader in Automatic Data Capture, offers state of the art solutions with fixed position retail scanners, handheld scanners and mobile computers. Datalogic ADC's range includes in-counter and on-counter point of sale scanners, general purpose and ruggedized handheld scanners, rugged mobile computers, industrial PDAs and vehicle mount computers. Solutions for applications in several sectors include healthcare, hospitality/entertainment, manufacturing, retail, services and transportation & logistics.
Businesses in the retail sector can particularly benefit from Datalogic ADC's vision-based technology solutions, analytical tools, self-shopping solutions and consumer relationship technologies.
A division of the Datalogic Group, Datalogic ADC is headquartered in the US with a presence in over 120 countries.
For more news and information on Datalogic ADC, please visit http://www.datalogic.com.
Datalogic Group is a global leader in Automatic Identification with a specific focus on the Automatic Data Capture and Industrial Automation sectors. As a world-class total solutions provider and producer of bar code readers, data collection mobile computer and vision systems, Datalogic offers innovative solutions for a full range of applications in the manufacturing, retail, healthcare and transportation & logistics industries. Datalogic S.p.A., listed on the STAR segment of the Italian Stock Exchange since 2001 as DAL.MI, is headquartered in Lippo di Calderara di Reno (Bologna). The Group's recent acquisition of Accu-Sort Systems Inc., a leading supplier of Automatic Identification products and solutions in the United States, has doubled its presence in the Industrial Automation market, escalating Datalogic to undisputed leadership in the Industrial Bar Code Scanners segment with a market share of 31%. Datalogic Group as of today employs more than 2,400 members of staff worldwide, distributed in 30 countries across Europe, the Americas and the Asia Pacific region. In 2011 Datalogic Group achieved revenues for 425,5 million Euro and invested over 26 million Euro in Research and Development with a portfolio of over 1,000 patents across the world.
For more news and information on Datalogic, please visit http://www.datalogic.com.
Datalogic and the Datalogic logo are registered trademarks of Datalogic S.p.A. in many countries, including the U.S.A. and the E.U. Datalogic ADC is a trademark of Datalogic S.p.A. Magellan is a registered trademark of Datalogic ADC in many countries, including the U.S.A. and the E.U.
About Digimarc
Digimarc Corporation (NASDAQ:DMRC), based in Beaverton, Oregon, is a leading innovator and provider of consumer engagement, media management, and security solutions that create digital identities for all forms of media and many everyday objects. Digimarc's digital IDs are imperceptible to humans and enable computers, networks and devices like mobile phones to better "see, hear and understand" brand impressions and other objects of interest. Digimarc has built an extensive intellectual property portfolio with patents in digital watermarking, content identification and management, media and object discovery to enable ubiquitous computing and related technologies. Digimarc develops solutions, licenses its intellectual property, and provides development services to business partners across a range of industries. For more information and the latest news, please visit http://www.digimarc.com and follow us on Twitter @DigimarcCorp.
Contact:
Pam McQueen
pam.mcqueen(at)datalogic(dot)com
541-302-2012