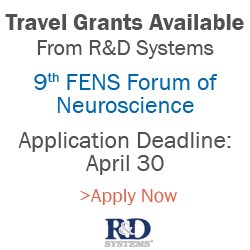 Minneapolis, MN (PRWEB) February 10, 2014
R&D Systems, a leader in the development of high-quality proteins and immunoassays, is pleased to announce its sponsorship of 10 travel grants for scientists attending the ninth FENS (The Federation of European Neuroscience Societies) Forum of Neuroscience.
The $1,000 awards support researchers working in academic or nonprofit institutions, and applicants need not be FENS Forum 2014 meeting presenters to be eligible. Meeting attendees are invited to apply for the travel grants via the R&D Systems webpage: RnDSystems.com/FENS2014. Applications are due April 30, 2014. Winners will be determined by random drawing and announced on May 5, 2014. Further information on the awards can be found on the online application page.
The ninth FENS Forum of Neuroscience meeting will be held in Milan, Italy, July 5-9, 2014. R&D Systems representatives will attend and welcome inquiries from researchers. The company offers a broad range of high quality reagents for studying all areas of neurobiology, from neural stem cells to neurodegenerative disease. These include over 12,000 high performance antibodies, and the most referenced collection of bioactive proteins and immunoassays in the industry. Primary rat and mouse cortical stem cells are also available, as well as specialized media supplements and kits for the expansion, differentiation, and identification of neural stem cells. In addition, R&D Systems offers a wide selection of multiplex assays for the simultaneous detection of multiple analytes using different detection platforms.