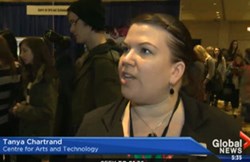 A fantastic chance for the Centre for Arts and Technology to create a bridge between opportunity and success for prospective students & contribute to a healthy educational atmosphere in BC. - Tanya Chartrand Community Relations Coordinator Team Leader
Kelowna, BC (PRWEB) February 07, 2014
Canadian Digital Art School - The Centre for Arts and Technology was once again present at this year's Education & Career Fair at the Delta Grand Okanagan in Kelowna on Monday Feb 3rd 2014. Crowds of mostly high school students from all over the Okanagan came to get inspired about their post-secondary schooling and career options. Educational institutions, government institutes, employers and volunteer agencies from all over B.C. and Alberta were on-site to entice potential students and career-seekers to choose their programs.
This year, The Centre for Arts and Technology (CAT) Kelowna was the bag sponsor of the event and saw hundreds of students perusing the exhibitor booths filling their CAT bags with program calendars and other items from each of the over 50 booths. The Centre for Arts and Technology booth featured interactive displays to engage students with a taste of what to expect if they enroll. Instructors and current students were on hand to showcase animation, sketching, graphic design, Photoshop and photography, inviting any passersby to see what CAT has to offer.
Education & Career Fairs is now in its 17th year, and has grown from its original two locations in Vancouver and Surrey to now include points in the Okanagan, Northern BC and Alberta. The mission of ECF is to provide visitors, regardless of age or previous background, the opportunity to develop a career path. The event also featured seminars that visitors could attend for free, and covered various topics such as; apprenticeships, creative careers and private training institutions.
Global Okanagan news was on hand to cover the event and featured The Centre for Arts and Technology as a great option for those looking to stay in the Okanagan valley to continue their career training. The Centre for Arts and Technology's Community Relations Coordinator Team Leader Tanya Chartrand sees this event as a great way for students to explore their career options. "It's a fantastic chance for the Centre for Arts and Technology to create a bridge between opportunity and success for prospective students and contribute to a healthy educational atmosphere in British Columbia." To watch the video please click here.
Centre for Arts and Technology delivers fully accredited certificate and diploma programs across a variety of arts and technology disciplines. The Kelowna campus features two contemporary recording studios and a film production studio, in addition to extensive digital video, motion graphics, digital media, digital effects, fashion design, and animation labs.