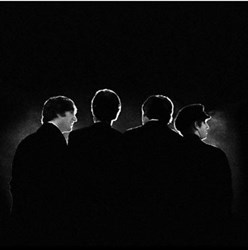 Their composition, the light, the way they succinctly capture the moment, and the way they capture a profound contemplative mood—all of this make these photographs extremely special. –David Mapes, owner David Anthony Fine Art
Taos, New Mexico (PRWEB) February 06, 2014
The country will soon be celebrating the 50th Anniversary of the Beatles coming to America, including their first American live television appearance on the Ed Sullivan Show on February 9, 1964, and their first concert in the U.S. at the Washington Coliseum on February 11, 1964, which photographer Mike Mitchell captured on film. Mitchell's rare Beatles photos are currently on exhibit and for sale at David Anthony Fine Art in Taos, New Mexico.
"It was a momentous experience, and I think everyone that was there probably felt the same way," said Mike Mitchell from his home in Washington D.C., where he still resides. "And even though Taos is far from Washington D.C., I wanted these Beatles photos to be exhibited at David Anthony Fine Art because Taos has been an international art center renowned for its creative energy and light for a long time. Light has a significant role in the realization of these photos," he said.
Mitchell who was 18-years-old at the time, had a press pass to the concert but had no flash available for his camera and therefore was forced to use existing light. Some of the resulting negatives, taken with low ambient light, were barely readable until the advancement of technology allowed their full realization. Today, Mitchell's dynamically nuanced images are appreciated for their artistic merit and historical significance.
"The quality of these photographs is extraordinary," said David Mapes, owner of David Anthony Fine Art. "Their composition, the light, the way they succinctly capture the moment, and the way they capture a profound contemplative mood—all of these things make them extremely special," he said.
The photos include 19 limited edition, framed prints, prices for which start at $2,000 and range to $50,000. They include shots of the entire fab four (of course looking very young), with many shots capturing light from behind them and beside them that illuminates and frames their profiles. Some photos are all four together, others are of groups of two of them, and some are individual shots, including one of Ringo Star on the drums, John Lennon singing and many others. The photos can be viewed both at the Taos Gallery as well as online and purchased online in the gallery's newly launched online store.
###
David Anthony Fine Art, (DAFA), located at 132 Kit Carson Road, Taos, New Mexico, was founded by long-time Taos furniture maker David Mapes in 2011. Each year, the gallery hosts the DAFA Photography Invitational showcasing photographers from throughout the world. The mission of DAFA is to exhibit the work of accomplished fine artists and exceptional crafts people in a setting that is welcoming and accessible to all.
Jennifer Padilla
JLH Media
505 577 1347
jpadilla (at) jlhmedia (dot) com