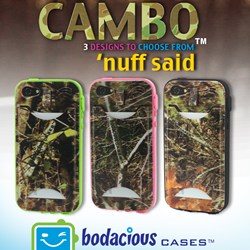 I just love that this camBo line isn't digital, it isn't fake...it's from real trees in the heart of America, where my family homesteaded in 1824. - CEO Arianna Russell
(PRWEB) February 25, 2014
Introducing the camouflage iPhone cases by Bodacious Cases
Ever heard the saying: "Ask and you shall receive"? Since you've asked….Bodacious Cases is proud to introduce camBO, their camouflage line of iPhone cases.
As a new company, they are all about learning - doing things that people say they cannot do and beating the odds. In the last few months, the entire Bo team at Bodacious Cases has learned more than they ever imagined they could….. about camo. Who knew there are so many hunters throughout the country?
Not only is this camBo product line special because they are branching out to give you what they know you love; it's extra special because the three designs you get to choose from are real photos taken on a Missouri Century Farm, which was originally an 1824 homestead established by CEO Arianna Russells's great-great-grandparents. The Bo team walked the woods at Bo Headquarters and took over 600 photos. They narrowed these down to their favorite three designs, which are now available for the iPhone 4 and iPhone 4s, iPhone 5, and iPhone 5s at http://www.bodaciouscases.com/camBo.
They just love that this camBo line isn't digital, it isn't fake. The cases are actual photos of the woods that have been there since the family farm was a simple homestead all those years ago. This camo isn't just a bunch of random trees from Missouri or America, but from Bo Headquarters located in the heart of the Ozarks in Ozark, Mo.
So here is camBo, it's CAMouflage and BOdacious. This little fella, Bo is pretty special, he makes ya'll smile, that's pretty bodacious.
Here are some videos we're sure you'll love:
She knows how to dress
Do you have an American made camouflage iPhone case?
NUFF SAID! ;)
Arianna Russell | Inventor, CEO
Bodacious Cases
http://www.bodaciouscases.com