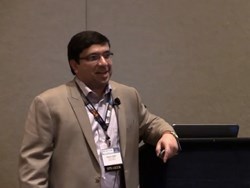 Nauman Sheikh is one of the world's premiere experts on big data analytics. Nauman's ability to take complex information and present it in an easily understandable way is why our industry finds him so valuable. – Pondera CEO Jon Coss
Sacramento, CA (PRWEB) February 07, 2014
Pondera Solutions' Director of Analytics and author, Nauman Sheikh, led a full capacity seminar at Public Sector Partner's "Big Data 2014" Conference at the Sacramento Convention Center. The presentation was titled "Using Google Big Data to Combat Fraud, Waste, and Abuse." Sheikh's seminar empowered program staff and middle managers to better understand and embrace analytics to improve program integrity without incurring multi-year development efforts.
Public Sector Partners has made Sheikh's full seminar available to view online here.
"Nauman Sheikh is one of the world's premiere experts on big data analytics," said Pondera CEO Jon Coss. "Nauman's ability to take complex information and present it in an easily understandable way is why our industry finds him so valuable."
Big Data 2014 was a convening of the most important leaders in California's public technology sector. The conference explored the management of government information and how to utilize emerging big data technologies to enhance various government operations. Other presenters at the conference included: Accenture, IBM, Oracle, SAP, CGI, and Deloitte.
Sheik's seminar helped participants discover a new technological approach that simplifies big data analytics and creates a "bottom-up" approach to solving real world problems. Having implemented large scale operational and predictive analytics systems in multiple continents with companies like Experian, Fidelity Information Systems, Navistar and Exelon, Sheikh showcased how to leverage Google, big data, and the cloud to simplify analytics in the governmental, educational, energy and agricultural sectors.
Sheik is the author of "Implementing Analytics: A Blueprint for Design, Development, and Adoption," published by Morgan Kauffman. Signed copies of Mr. Sheilk's book were given to select session participants. The book is also available for purchase on Amazon.com.
About Pondera Solutions:
Pondera Solutions, a product and services firm focused on implementing Google solutions in government agencies, delivers a comprehensive Fraud Detection as a Service (FDaaS) solution based on Google's state-of-the-art tools. FDaaS analyzes incoming claims using Google's predictive modeling, data mining and matching, geospatial and search engine technologies to investigate and help prevent potential fraud before it occurs.