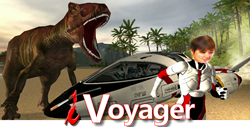 This is the Craziest Thing I have seen in this Convention and I love it. It is so Mesmerizing.
New York City, NY (PRWEB) February 06, 2014
iCrea8, an early stage start-up from New York City, has taken the 3D personalization experience to a completely new level utilizing its patent pending technologies and cloud-based service apps. iCrea8, with its very simple mobile and multi-platform interface, is giving power to people to create themselves in 3D games, dances, and stories, to name a few. "With iCrea8, we are giving a whole new dimension to the letter 'i' by enabling everyone, I mean literally everyone, even an average Joe and Jane, the ability to participate in the end-to-end 3D personalization experience, from constructing 3D models from photos taken with a simple mobile phone camera, to inserting 3D avatars in games, dances, and stories, playing personalized 3D games and performing 3D dances, to sharing their personalized 3D avatars in action-rich scenes with friends in social media, to 3D printing the avatars," said Dr. Masuma Ahmed, Founder and President of iCrea8 Inc. By utilizing its strategic partnerships with Autodesk and NYU Advanced Media Studio, iCrea8 is forging ahead with its vision of bringing end-to-end 3D personalization experience to everyone.
iCrea8 is showcasing its multi-platform end-to-end 3D personalization service at the Apps World North America 2014 at the Moscone Center West in San Francisco on February 5 and 6 where the convention attendees will have the opportunity to see the "iCrea8 Me and Everyone in 3D World" in mobile, PC, and web platforms. The exhibition is free to attend.
iCrea8 video link:http://www.youtube.com/watch?v=O47Z97CYxQ4
You can join in the iCrea8 3D World by visiting http://www.icrea8.com and signing up to create your own 3D experience.