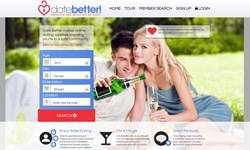 Imagine if I could ask their last few dates what happened. We'd know immediately how to direct changes to ensure better dating success. - Donna Barnes
Chicago, IL (PRWEB) February 11, 2014
Author and Relationship Coach Donna Barnes announced today the launch of DateBetter.com. The online dating website provides innovative tools to assist members in becoming better daters. Barnes has constructed a hybrid of matchmaking and relationship coaching and the result is an online dating experience based on user feedback.
The number one complaint of online daters is that people don't look like their profile pictures. DateBetter.com addresses this with verification badges to ensure people look like their pictures. Additionally, the site has partnered with Family Watchdog to identify sex offenders and iVerifly to confirm the identities of members and reduce Cat Fishing. The site goes further with Barnes, in her capacity as a certified Relationship Coach, offering members videos and articles to help with real world relationship and online dating issues.
DateBetter.com offers pioneering features including the Datebook which logs the time and location of your dates for added security. The feedback feature takes the pressure off letting someone down—the site does it for members. It also provides valuable information that will give online daters an insight into what could be going wrong. Without this insight it's virtually impossible to know what's keeping you single.
Co-founder of DateBetter.com Donna Barnes says, "Many of my clients are confused by the fact they have no trouble getting first dates but aren't as successful getting second dates. Imagine if I could ask their last few dates what happened. We'd know immediately how to direct changes to ensure better dating success. That's what DateBetter does. It gives you the answers you've been missing and the tools to self correct."
Rounding out DateBetter.com's online dating website's features:

Compatibility Checklist
Video Speed Dating
Age Range vs. Specific Age
DateBetter.com aims to attract members nationwide who are serious about finding a lasting relationship. The pioneering tools the site provides coaches members to better dating habits.
Membership to the online dating destination is free for the initial three months of the launch. A competitive rate will be set after that.
Donna Barnes is a New York University certified Relationship Coach and author of Giving Up Junk-Food Relationships: Recipes for Healthy Choices. She is a regular guest on Good Morning America and Nightline, among others. She was the on-air expert for three seasons of ABC's What Would You Do? series and writes relationship columns for Digital Romance and DatingAdvice.com.