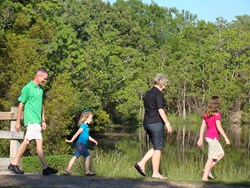 "Athens is a great place for families to visit who are looking to getaway, relax and spend quality time together," said Sherri Skeeters, tourism coordinator for the City of Athens Department of Tourism.
Athens, Texas (PRWEB) February 12, 2014
With spring just around the corner, the City of Athens Department of Tourism is preparing to welcome nature lovers to its outdoor activities and diverse venues. Located just a few hours away from most major cities in Texas, Athens offers the perfect family getaway or adventure vacation.
Athens is known for its natural beauty which includes hills, lakes and wildlife. This emphasis on the great outdoors provides an array of activities such as boating, fishing, bird watching, golfing and water skiing.
Athens offers several activities of interest to families at spring break. Take a trip to the Henderson County Historical Museum in downtown. Visitors to the museum take a step back in time and experience life in turn-of-the-century Texas, while learning more about the history of the area. Exhibits feature historic re-creations of a dry goods store, an early law office, a parlor, a schoolroom and more. Nearby art galleries, restaurants, and boutiques in downtown Athens also provide hours of entertainment.
The kids will especially enjoy their encounter with nature at the Texas Freshwater Fisheries Center. The 1.2 acre lake is stocked with fish year round and staff provides help with untangling fishing lines and replacing lost hooks. The center boasts 300,000 gallons of aquariums with fish native to Texas, along with tram tours and a daily dive show.
Just 15 minutes east of Athens, thrill-seekers will find NY-TX Zipline Adventures, which is atop the highest point in Henderson County. It has the longest zipline in Texas, which is over 900 feet and offers a panoramic view of the trees and hills of East Texas.
In addition to these activities, no trip to Athens is complete without a visit to the East Texas Arboretum and Botanical Society which features 100 acres of wooded beauty, trees, flowers, and wildlife. Visitors may walk past the spring-fed streams connected by a 115-foot suspension bridge and explore the historic Wofford House museum. The monumental Henderson County Veterans Memorial Wall and Plaza honors more than 9,000 military veterans from Henderson County beginning with the Civil War to present.
For more information about Athens including hotel accommodations, coupons and upcoming events, visit http://www.AthensTX.org or call 1-888-294-2847 to request a free visitor's guide.
About the City of Athens:
The City of Athens, Texas is a scenic, idyllic town offering relaxation and a break from the hustle-and-bustle of everyday life. With its nature trails, gardens, fall foliage, historical museum, fishing sites and scuba diving facilities, rodeos, and vineyard, it appeals to adventure enthusiasts and casual travelers alike. Athens is also the nationally acclaimed "home of the original hamburger." For more information about Athens, visit http://www.AthensTX.org.