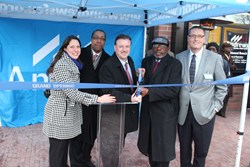 (PRWEB) February 07, 2014
Andrews Federal Credit Union (Andrews Federal) recently celebrated the grand opening of its newest Brightwood branch with a ribbon-cutting ceremony. The festivities included exclusive, special offers available for new members at the Brightwood branch.
"We're extremely excited about this beautiful new state-of-the-art full-service branch location in the heart of our nation's capital," said Jim Hayes, Andrews Federal Credit Union President and CEO. "We are glad to join the vibrant Brightwood community and welcome the opportunity to help its residents achieve financial success for many years to come."
The Brightwood Branch is located at 5935 Georgia Avenue, NW, Washington, DC. Lobby hours are from 10:00 AM – 6:30 PM Monday-Friday, and 9:00 AM – 5:00 PM Saturday.
About Andrews Federal Credit Union
Andrews Federal Credit Union was founded in 1948 to serve the needs of military and civilian personnel by providing a vast array of financial products and services. With over $1 billion in assets, Andrews Federal has grown to serve more than 100,000 members in the District of Columbia, Joint Base Andrews (MD), Joint Base McGuire-Dix-Lakehurst (NJ), and military installations in central Germany, Belgium, and the Netherlands. In addition, the Credit Union serves as a financial partner with many select employee groups in Maryland, the District of Columbia, and New Jersey.
To learn more about Andrews Federal Credit Union and its community involvement, or to become a member, call 800.487.5500 or visit http://www.andrewsfcu.org.