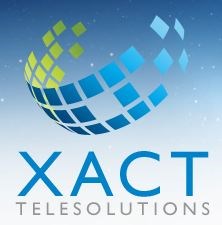 This time around, we're getting students the information they need to succeed in school and in their careers, on a large scale.
Unity, ME (PRWEB) February 07, 2014
XACT Telesolutions is expanding its horizons and proving to competitors and prospects that its telephone- and web-based customer support solutions are designed for virtually every industry. By providing enrollment advisory services to students at one of the U.S.'s most prestigious universities, there's no doubt XACT will make the broadness of their expertise known.
"Working with such a highly respected university is a first," said Kathy Gray, Director of Business Development at XACT Telesolutions. "And our team understands that this isn't just business as usual. What's different is that we're providing something that transcends customer satisfaction. This time around, we're getting students the information they need to succeed in school and in their careers, on a large scale."
Gray also stated that XACT is up for the challenge and excited to get started. By using state-of-the-art customer support technology, employing proven customer experience tactics, and harnessing an innate desire to promote satisfaction and success, XACT's team will prove its competency in the education industry.
In addition to providing education-related services, XACT also provides industry-specific call center services to the finance, healthcare, tourism and property management industries.
According to Gray, one reason why the university chose XACT's enrollment advisory team over its competitors' is because XACT's team understands what's at stake when dealing with students. "While working under this new contract, our entire team – many of them college grads themselves – understands that people's futures are on the line. And that's something we'll never forget during the term of our contract."
Many of the team's advisors feel the way one full-time advisor at the University of Phoenix feels (not the university XACT has a contract with). Shila, an enrollment advisor at the school, described her passion for student advising in an inspirational video.
"I know that I'm succeeding in my job by seeing my students graduate. It's just amazing seeing them finally achieve that initial goal they had the first time they [came] to my office. [And] finally I see them graduate with that cap and gown on. That feeling is just … priceless."
This is a feeling XACT's team can relate to and one they hope to experience with students of their newest, biggest client.
About XACT Telesolutions:
XACT Telesolutions is a state-of-the-art call service center that leverages technology along with direct internet integration to provide support to clients. Their mission is to be the leading provider of customized and integrated telecommunications services. Furthermore, XACT Telesolutions works with businesses of all sizes, from Fortune 100 retailers to B2B organizations looking to enhance communications and support to their clients. For more information, visit MyXACT.com.