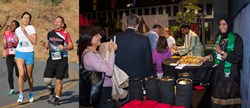 Loma Linda, CA (PRWEB) February 06, 2014
A 5-K walk/run/roll will kick-off and an International Food Festival will cap-off the second annual "Power of Inclusion" conference being sponsored by Loma Linda University Health (LLUH). The annual event shines a light on diversity and inclusion as powerful ingredients that enrich learning and healing experiences while strengthening community relations.
Open to the public, this year's conference theme, "Talent Has No Boundaries," will highlight the important contributions that people with disabilities make to our society, and will bring together nationally renowned speakers and celebrities, including Academy Award winning actress Marlee Matlin, and accomplished guitarist Tony Melendez, who was born without arms. For a full program agenda with dates and times, location, and registration details, please visit the website, http://www.powerofinclusion.org.
First this year is the staging of a 5K walk/run/roll on Sunday, March 16, which is expected to attract hundreds of runners, with and without disabilities, for a race around the city of Loma Linda. Registration starts at 6:30 a.m. at Loma Linda University Medical Center East Campus, 25333 Barton Road, Loma Linda.
The race will benefit Loma Linda University PossAbilities, a community outreach program for disabled community members. Proceeds from the race will go toward the PossAbilities grant and scholarship fund, which provides support for those with disabilities to improve their quality of life, assist in their reintegration to society, and lend resources to provide new direction and hope. The grants include adaptive equipment, accessibility grants, educational scholarships, social outings to community events, and athletic grants for travel and participation in sporting events.
Pre-conference workshops on becoming cross culturally comfortable and competent will be held on Tuesday, March 18, followed by the two day conference, March 19 and 20. All sessions will take place on the LLUH campus. Conference speakers will share their insights and provide practical guidance for leveraging and capitalizing on diversity and inclusion as a competitive community asset. Session topics include "Engaging with our Communities: A Collective Impact Model Driving Wellness and Prevention;" Developing a Disability-Inclusive Workforce and Society;" and "That All May Worship: A Ramp is Not Enough." Dr. Samuel Betances, diversity expert, motivational speaker, and bestselling author; Ginny Thornburgh, director of Interfaith Initiative at the American Association of People with Disabilities; John Kemp, president and CEO of The Viscardi Center in New York City; and Grace Odums, noted author and strategy consultant, are among the many highly recognized speakers.
An International Food Festival, featuring foods from different parts of the world, and live music, will mark the end of the conference. The food festival is from 5 p.m. to 8 p.m. on Thursday, March 20 at the Loma Linda University Drayson Center, 25040 Stewart St., Loma Linda.
"We are delighted to follow last year's very successful conference with another outstanding program. The uniqueness of our nation lies in the richness of backgrounds and characteristics of all who call America their home. It is a blessing that must be understood, celebrated, and tapped to its fullest potential. Diversity inspires creativity, inclusion promotes unity, and access provides opportunities for everyone," said Cari M. Dominguez, PhD., senior vice president of human resources at LLUH.
Photo Caption: A 5-K walk/run/roll will kick-off and an International Food Festival will cap-off the second annual "Power of Inclusion" conference, sponsored by Loma Linda University Health.
###
About Loma Linda University Health (LLUH)
Loma Linda University Health includes Loma Linda University's eight professional schools, Loma Linda University Medical Center's six hospitals and more than 900 faculty physicians located in the Inland Empire of Southern California. Established in 1905, LLUH is a global leader in education, research and clinical care. It offers over 100 academic programs and provides quality health care to 40,000 inpatients and 1.5 million outpatients each year. A Seventh-day Adventist organization, LLUH is a faith-based health system with a mission "to continue the teaching and healing ministry of Jesus Christ."
CONTACT: Herbert Atienza, Loma Linda University Health, 909-558-8419, hatienza (at) llu (dot) edu