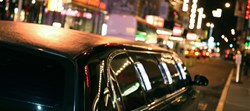 "The King's game promotion has already been a huge success and we anticipate even more fans to show their support of the team and downtown businesses."
Sacramento, Calif. (PRWEB) February 06, 2014
Baja Limo is offering a complimentary steak dinner to anyone that books a limousine to a King's game. The King's game promotion kicked off in January and is valid through the end of the basketball season in April. The promotion reaches out to King's basketball team and their fans in solidarity and in support of the proposed new sports complex in downtown Sacramento.
While waiting for the new arena to be approved, King's basketball fans can arrive at the game in style when they book a limousine through Baja Limo. On top of a luxurious cruise in a Towncar, Escalade, Hummer or other fun stretch-transportation options, groups can dine on the limousine company's dime with a free steak dinner at a premium steakhouse
"The King's game promotion has already been a huge success and we anticipate even more fans to show their support of the team and downtown businesses," said Baja Limo's general manager Tom Martin. "There is absolutely nobody in the business that provides better service than us, so this promotion is just icing on the cake for fans that are looking for a unique, luxurious experience before the basketball game."
Last week, Sacramento's mayor unveiled the plans for the King's new downtown arena. The Sacramento Bee reported the mayor saying the new construction "will leverage an estimated $1 billion in private investment" in the downtown area. Besides building a $448 million arena, Kings Executives say they will build another 1.5 million square feet of mixed-use development adjacent to the arena. The arena would occupy a portion of Downtown Plaza, which the team purchased last week.
Fans of the Sacramento King's and concerned citizens can get involved in support of the new arena and development of the downtown area by cheering on the team at home games and patronage local area businesses downtown. Baja Limo Company is one of the oldest and largest limousine providers in the Sacramento metro area. Operating for more than 30 years, Baja Limo prides itself in provide stellar services and consistently upgrading our fleet with cutting edge vehicles. The company's leadership and staff believe that an ordinary service, like transportation, can become an extraordinary experience when carried out by people who care.
Beyond local limousine service, Baja Limo operates tours through Napa Valley wine country and provides unique transportation for weddings, corporate events and nightlife experiences. With the largest section of luxury transportation in Northern California, its fleet can accommodate groups of two to 45 people. The staff and chauffeurs have great relationship with the premier entertainment venues in the area and can customize nearly any experience for guests.
For more information about the King's game promotion or Baja Limo call (916) 638-1400 or visit http://www.bajalimo.com.
###