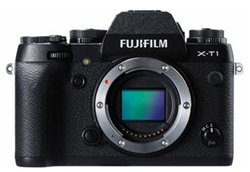 Fairfield, NJ (PRWEB) February 07, 2014
The FUJIFILM X-T1 weather resistant camera, with an interchangeable lens design and real-time OLED viewfinder, is now included in Unique Photo's extensive catalog.
Unique Photo, a leading photographic supply and camera retailer, has announced the FUJIFILM X-T1 is now a part of its product catalog. Its weather-resistant design, electronic OLED viewfinder, high-speed, and range of high-tech features make the unit ideal for professional photographers.
The camera sports a 16.3 megapixel APS-C X-Trans CMOS II sensor, accompanied by the EXR Processor II. With phase detection a standard feature, the device features a 0.08 second response time and starts up in just 0.5 seconds. Speed-savvy users will also enjoy the low 0.05 second shutter time lag and 0.5 second shooting interval. Also, the camera can shoot up to 8 frames per second. It's tracking auto-focus makes taking crisp pictures easier than ever.
In addition to compatibility with SDXS UHS-II memory cards, allowing high data writing speeds, the FUJIFILM X-T1 is weather-resistant. It features 75 points of weather sealing and supports use of a weather-resistant lens, adding to the versatility enabled by its dust- and water-resistance. It will also operate flawlessly in temperatures down to -14˚F.
Another standout feature is the wide-angle 2.36 million dot OLED view finder. This provides 0.77x magnification, the highest in the world for a digital camera. The display's lag time is just 0.005 seconds, allowing a photographer to capture split-second moments. An advanced graphic user interface supports the four display modes, including "Full", for taking in the full scope of a scene using the camera's highest magnification. "Normal" mode adds shooting settings to maximize image quality, while "Dual" mode offers a split regular view and simultaneous view of the manual focus area. Both of these can incorporate a "Portrait" view, automatically rotating the display as the camera is moved to the vertical.
The FUJIFILM X-T1's top plate features five mechanical dials, while two command dials and six customizable function buttons are included. All dials have textured surfaces to maximize comfort and ease of shooting. They are designed to click when turned, reassuring the photographer they have activated the right setting. The arrangement and markings enable the user to check the camera's settings even without looking at the rear LCD.
Also, the unit integrates Wi-Fi connectivity for remote operation via the Fujifilm Camera Remote app. It supports time lapse photography, adding to the range of applications the FUJIFILM X-T1 can be used for. To learn more, go to http://www.uniquephoto.com/product/fujifilm-x-t1-digital-camera-in-blackbody-only-/.
About Unique Photo
Unique Photo is a family owned business on the cutting edge of the modern photography industry. Established in 1947 by Bernard and Harriet Sweetwood, it owns a camera and video superstore in New Jersey and 20 retail outlets in department stores. It is now one of the world's largest privately owned photographic supply distributors.
###