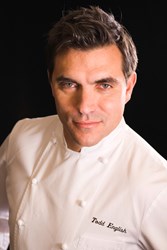 This is definitely going to be some great entertainment.
New York, New York (PRWEB) February 07, 2014
No stranger to cooking competitions, Chef Todd English has had his own experiences competing before the cameras. This week, the kitchen counters are turned as English joins fellow master chefs including Sunny Anderson, Scott Conant and Aaron Sanchez to judge the final episode of this season's Food Network's Rachael vs. Guy Celebrity Cook-Off where celebrities Florence Henderson, Herschel Walker, Penn Jillette and Tiffany will compete for the $50,000 prize that will benefit the charity of their choice.
The contestants will compete aboard the Hornblower Infinity cruise ship docked on the Hudson River where each team will prepare a three-course dinner. The Rachael team; Henderson and Jillette, will face-off for the final cook-off with The Guy Team; Tiffany and Herschel. The teams will have 2 hours to prepare the appetizer, entree and dessert they will be presenting to the judges.
"This is definitely going to be some great entertainment," says English. "These are tough-as-nails competitors and I don't think any of them are willing to let that $50,000 prize slip through their fingers. What I am sure of is that we will have a great time and share some laughs while bringing attention to some amazing causes. What more could you ask for?"
The final episode of Rachael vs. Guy Season 3 airs February 10th at 9 p.m. on Food Network and repeats on February 11th at 12 a.m.
About Todd English:
Todd English is a renowned chef, restaurateur, author, entrepreneur, and television personality based in Boston, Massachusetts and New York City. He is a four-time James Beard Award winner and inductee into the James Beard Foundation's "Who's Who in Food and Beverage in America." He is the CEO of Todd English Enterprises which owns, manages and licenses over 20 restaurants worldwide including Olives (New York, Las Vegas, Mexico City, Bahamas), Todd English Food Hall (New York, Manila 2014), Todd English P.U.B. (Las Vegas, Birmingham), Figs (Boston, Charlestown, Kuwait, Nantucket and Macy's West Palm Beach), BlueZoo (Orlando), Ça Va (New York), Todd English Restaurant (Queen Mary 2), Tuscany (Mohegan Casino) and Isabelle's CurlyCakes (Boston). He has two sons and one daughter. For more information on chef Todd English and his restaurants please visit his website at http://www.toddenglish.com. Or, follow him on Facebook – http://www.facebook.com/ChefToddEnglish and on Twitter- @ChefToddEnglish