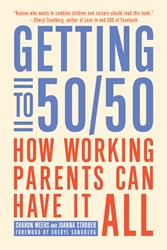 Getting to 50/50 offers hope and help, perspective and advice and ultimately, some extraordinarily practical approaches to making a family work, regardless of the specific challenges that family faces.—About.com
(PRWEB) February 07, 2014
Top work and family expert Sharon Meers, co-author of Getting to 50/50: How Working Parents Can Have It All, penned a piece for the Washington Post's Leadership section on how guilt affects working mothers. Meers points to the common misconception that moms with careers outside of the home are somehow not good parents, and argues for a change of view. Research shows that children of working parents are not at any disadvantage, and society's view of working mothers simply hasn't caught up with the facts.
Meers concludes that "we have to stop seeing the success of women as the downfall of men. Even more importantly, we have to stop seeing it as the downfall of mothering." The alleviation of guilt so common amongst working mothers will create opportunities for women to step into more leadership roles, and truly shine at work.
Sharon Meers is the coauthor of Getting to 50/50, now out in paperback. Currently, Sharon is the Head of Enterprise Strategy at Magento, which is part of eBay Inc., a global commerce and payments leader. Prior to joining eBay, Sharon was a Managing Director at Goldman Sachs. Find her online at @gettingto50_50, Facebook.com/Gettingto5050 and http://www.gettingto5050.com.
About Getting to 50/50: How Working Parents Can Have It All:
Meers and Strober make the heaviest-hitting case to date for how working families really can have it all. By sharing their personal experiences as mothers, wives and successful businesswomen – and unparalleled analysis of social science research – the authors show how, if we are willing to change the way we perceive our choices in career, marriage and childrearing, we can have much, much more of what we want. Getting to 50/50 offers a practical roadmap to help women - and men - stay engaged with their kids without sacrificing their careers (or, for that matter, their sex lives)!
"We have a long way to go before we achieve equality," writes Facebook COO Sheryl Sandberg, in a thought-provoking foreword written specifically for the 2013 edition of Getting to 50/50. "50/50 is not just the fair thing to do, but the better thing to do for a family."
A refreshing, important and game-changing read that's set to do for the cultural dialogue around working families what Lean In did for working women, Getting to 50/50 offers encouragement, hope, and confidence to any woman who has ever questioned her choices regarding career and family.