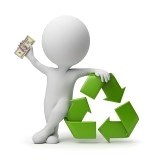 Managers will be able to set the system up to send them emails or text messages any time and employee clock-in or out late
New York, NY (PRWEB) February 11, 2014
MinuteHound's automated time clock has changed the way that industries can keep track of their employee's attendance. The biometric fingerprint technology ensures that only the employee needing to clock-in or out can do so by themselves. They no longer can have others clock-in or out for them. The fingerprint time attendance machine will scan the employee's fingerprint to keep track of the time they are working. Companies can have updated reports at any time to see who is on the clock and who is not.
This technology out-beats any competition for it ensures that companies will no longer have to lose money they didn't expect to pay. For example, employees will no longer be able to get unapproved overtime. Managers will be able to seek out the employees that are taking advantage of the time clock, and they can work with them individually to ensure they no longer take advantage of the system.
MinuteHound's time clock system is easy to install. The fingerprint reader can be installed any where the company wants it to be. It comes with a 6ft USB cord that will hook the reader up to any nearby computer. Once the system is hooked up to the computer, it is ready to use. The employees can choose any finger that they want to use in order to clock-in or out of the system. The system uses a 128-bit encryption to transfer the data so that the employees don't have to worry about their fingerprint being in the system indefinitely.
Managers will be able to set the system up to send them emails or text messages any time an employee clocks-in or out late. This will ensure the employee can be worked with if they start abusing the system. The managers will be able to have updated reports at any time, day or night, of the employees working. The managers do not have to be on site to get the reports either. They can simply access the time clock system reports from any where that has an internet connection. This helps the managers out that need to know what is going on with their time clock system while they are away on a business trip or vacation.
MinuteHound's automated time clock system is perfect for any company no matter the number of employees they have. The system will only cost the company pennies a day to use it. They will pay a fee to have the system and a monthly fee for the time they use the system. The monthly fee amount will be based on the number of employees the company has that will be using the time clock system to clock-in and out on. There are no obligations, risks, or contracts to use MinuteHound's time clock system.
MinuteHound Contact Information
Website: http://www.MinuteHound.com
Email: info(at)MinuteHound(dot)com
Phone: (800) 351-7237