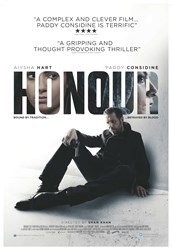 "A complex and clever film… Paddy Considine is terrific." – Mark Adams, Sunday Mirror
Toronto, ON (PRWEB) February 10, 2014
After her family forbids her from seeing the man she loves, Mona (Aiysha Hart) is faced with two options: to consent to the traditional views of her conservative family or to follow her heart and be with the man she loves. Choosing the latter and dishonouring her mother and brothers, Mona quickly finds herself on the run from a bounty hunter (Paddy Considine), hired by her family.
Directed by the up-and-coming Shan Khan, "Honour" features an electrifying cast with Paddy Considine (In America, A Room for Romeo Brass) as the mysterious bounty hunter, and newcomer Aiysha Hart (Atlantis) as the lead, Mona. Harvey Vidi (Bend It Like Beckham, Bride and Prejudice) plays Mona's mother, Shubham Saraf (Miss) and Faraz Ayub (Line of Duty) play her brothers and Nikesh Patel (Jadoo) plays her true love. With this outstanding cast and narrative, "Honour" is a film that gives the audience something to think about.
"A complex and clever film… Paddy Considine is terrific" – Mark Adams, Sunday Mirror
"A gripping and thought-provoking thriller" – Henry Fitzherbert, Sunday Express
"When it comes to the performances newcomer Aiysha Hart does full justice to her role with a gritty performance." - Zoha Tapia, Arts London News
Shan Khan's "Honour" will be released in the US and Canada in mid-April, but it is available for review now.
If you are interested in reviewing this film, please use the contact details attached to this release for the screening link and password. Your interest is greatly appreciated. Bringing a horrific reality to the surface, this thriller is sure to grab the attention audiences.
ABOUT 108 MEDIA
108 Media is a unique, vertically integrated and diversified next-generation media company. Through worldwide sales, distribution and ownership of film and TV content, 108 Media is positioned to offer custom built solutions for each of its projects.