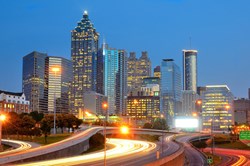 Keener Law Firm is seeing a strong upswing in accident cases after Winter Storm Leon
Marietta, GA (PRWEB) February 07, 2014
Keener Law Firm in Marietta, Ga., is urging residents hurt in accidents during Winter Storm Leon to act quickly to file their claims. Winter Storm Leon put Atlanta on traffic lockdown for several days after the storm dumped snow and ice on the city Jan. 28.
Keener Law Firm is committed to helping clients hurt during Winter Storm Leon
The expert attorneys at Kenner Law Firm specialize in car/truck accidents and personal injury cases. They are experienced at taking on and winning cases against large insurance companies that strive to deny people in accidents their rightful compensation.
Going to court without an attorney is a risky proposition
Keener Law attorneys see multitudes of clients who started out trying to fight their personal injury and car accident cases alone, hoping that insurance companies would treat them fairly. Keener Law Firm urges people to understand that insurance companies have lawyers and adjusters on their teams that are paid to save the insurance companies money.
To effectively fight the insurance companies, residents need to hire an experienced attorney who have the knowledge and experience to beat the insurance companies at their own game.
Keener Law Firm handles a variety of cases
In addition to car/truck accidents and personal injury cases, Keener Law attorneys also handle cases in the following areas:

Workers Compensation
Nursing Home Negligence
And more
About Keener Law Firm
For more than 20 years, Kenner Law Firm has helped ordinary people get the justice they deserve. Keener is a small, compassionate law firm based in Marietta, Ga. that has won multiple seven-figure settlements for its clients. To get information about your case, visit http://www.keenerlaw.com or call 1-800-900-2400.