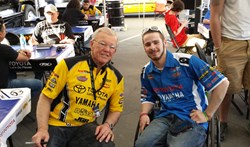 I had heard of a few other places that claimed to be doing the same thing as Project Walk, but a buddy of mine said that if I wanted the best chance at recovery, I had to go to [Project Walk in] Carlsbad.
Carlsbad, CA (PRWEB) February 07, 2014
Most parents hope their child finds something in life they can truly be passionate about. For Derrick Bonds, 18 motocross was that very passion and for Father, Bryan, he couldn't have been more proud of his son's dedication to be the very best at a sport he loved.
Yet as fate would have it, Bond's pursuit of excellence led to an accident that drastically changed his life forever. On July 24, 2011 Bonds suffered a T-5 incomplete spinal cord injury after participating in a race he almost didn't attend.
"I remember thinking the day was a little off," recalls Bonds, "I am a creature of habit and I didn't go to a gas station we always went to-- and a few other places; basically something just felt different."
Bonds had originally opted to sit-out of a race scheduled in his hometown of Summersville, WV. Father, Bryan recalls Bonds changing his mind last minute and in the third and final race of the day, Bonds attempted to make a pass; pushed a little too hard and hit a bump before flying into the air with his bike crushing his body twice before coming to a standstill.
The accident left Bonds paralyzed from the waist down and ultimately unable to race in a sport he loves so dearly. Not one to give up on his dreams, Bonds asked his dad to fix his bike so that he could ride it with a spinal cord injury, still believing in the chance of one day riding again professionally.
Determined to get back to motocross racing, Bonds sought out recovery options and ultimately landed at the Project Walk Paralysis Recovery Center in Carlsbad, CA.
"I had heard of a few other places that claimed to be doing the same thing as Project Walk, but a buddy of mine said that if I wanted the best chance at recovery, I had to go to [Project Walk in] Carlsbad," says Bonds.
The outpouring of support for Bonds to seek recovery is no surprise as the racing world is a small knit group with an endearing bond to help their kin. However, Bonds was offered help from one man in particular, NASCAR Championship team owner, Joe Gibbs after meeting through chance at a FAC Motocross camp.
In turn, Bonds has spent the last few weeks working out at Project Walk where Bryan says, "I knew he [Derrick] would get better; I just didn't know we would see results as quickly as we did." Bryan adds, "On the third day of his program he was able to bend his legs a bit and shortly after, he was able to straighten one leg at a time when working out on the Total Gym."
Project Walk is based on The Dardzinski Method, and uses intense activity-based recovery backed by research and technology to expose those affected by a neurological impairment to the most forward-thinking rehabilitation in the industry. Project Walk Specialists focus on getting clients out of their wheelchairs while attempting to retrain the nervous system; a welcomed approach by Bonds.
"My experience here is unlike anything I had expected," says Bonds. "All I can say to anyone looking for a recovery center is I would recommend Project Walk because it's awesome."
For more on Project Walk and stories like Derrick's, please visit the Project Walk website at http://www.ProjectWalk.org
Project Walk Paralysis Recovery Centers, is the pioneer in activity-based recovery with nearly two decades of experience. The Project Walk mission is to help provide an improved quality of life for people suffering from a mobility related disorder through intense activity-based recovery programs, education, training, research and development. SCI Business Solutions Inc. is the exclusive operator and franchisor of Project Walk Paralysis Recovery Centers which comprised of a global network of franchised and licensed locations, which have treated thousands of clients in over 30 countries on six continents.