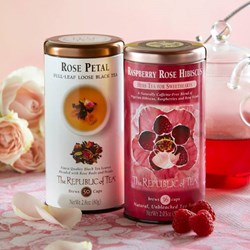 Novato, CA (PRWEB) February 07, 2014
The Republic of Tea, leading purveyor of premium teas, today announces the return of its limited edition "Tea for Sweethearts" collection, which consists of Rose Petal Tea, full-leaf loose black tea and Raspberry Rose Hibiscus. Available now, these teas are delightfully fragrant, flavorful, beautiful, and a true gift to your senses.
Aromatic Rose Petal Tea is a handcrafted blend of delicate, young rose buds and petals, atop the sweet fullness of exceptional full-leaf China black tea, with just a hint of spice. This Victorian tradition is perfect served in fine china cups for kings, queens, friends and loved ones. It is also the ideal gift for Valentine's Day, Mother's Day, springtime birthdays, anniversaries and bridal showers. Rose Petal Tea has a suggested retail price of $11.50 for 2.8 oz full-leaf loose tea that steeps 50 cups, packaged in a specially-designed air-tight tin.
Fragrant Raspberry Rose Hibiscus is a caffeine-free blend of flavorful, healthy Nigerian hibiscus, sweet, ripe raspberries and delicate rose petals that add a fruity, floral note. Raise a cup of this romantic blend of herbs with your sweetheart. The suggested retail price is $11.50 for an air-tight tin of Raspberry Rose Hibiscus containing 36 of The Republic of Tea's all-natural, unbleached, round tea bags, free of unnecessary strings, tags and staples.
Rose Petal Tea and Raspberry Rose Hibiscus are Certified Gluten-Free, produced in limited quantities and subject to availability. Both rose teas are available nationwide at natural and specialty food stores, the company website, (http://www.REPUBLICofTEA.com), The Republic of Tea's mail order catalogue and by calling 800-298-4TEA (4832).
About The Republic of Tea:
The Republic of Tea enriches people's lives through its premium teas, education and innovation, as it emphasizes a "Sip by Sip Rather Than Gulp by Gulp" lifestyle. Founded in 1992, The Republic of Tea sparked a specialty tea revolution. Today the brand offers an unequaled selection of the highest-quality teas, herbal blends, books and nature-inspired sip ware, available exclusively at specialty retailers throughout the U.S. Further, The Republic of Tea is mindful of how its actions impact the greater community and actively supports worthy organizations like the Whole Planet Foundation, the Prostate Cancer Foundation, Room to Read, Action Against Hunger, The Ethical Tea Partnership, Rainforest Alliance certification and Non-GMO Project verification. For more information, please visit http://www.REPUBLICofTEA.com or call 1.800.298.4832. Follow The Republic of Tea on Twitter at twitter.com/republicoftea and Like us on Facebook at http://www.facebook.com/RepublicofTea.