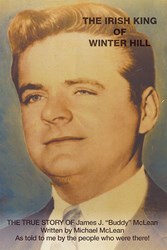 We love publishing quality and timely books like this. Sales are very strong and we look forward to more success with our author Mr. McLean. -- Robert Fletcher, SBPRA CEO
(PRWEB) February 07, 2014
There have been many books written about the mob, but every now and then, a true story appears on the scene and becomes an instant hit. This is the case with the new book written by Michael McLean, who is the son of the infamous James J. "Buddy" McLean. In "The Irish King Of Winter Hill: The True Story of James J. "Buddy" McLean", the reader gets the real scoop on this explosive period of history when the gangsters ruled the docks, and the streets of Boston often erupted into gang wars.
Michael McLean was sick and tired of reading all of the erroneous information published about his father, Buddy McLean. He decided to set the record straight, after all, he was there and new what the truth revealed. Now the reader can sit down and have the feeling of sitting in the room with Michael, as he tells this exciting true story. This is a case where the truth is more dynamic than all of the fictitious stories about "The Winter Hill Gang".
Buddy McLean was a man not to be challenged. He is best remembered for eliminating the McLaughlin Gang from the Charleston area of Boston during the early 1960's in the McLean-McLaughlin Irish Gang War. Buddy's son, Michael, worked on the docks as a Teamster under Local No. 25 with his father's union card. Michael forgot more than most people know about the Boston Mobs.
During a recent interview, Michael had this to say: "I have read all the books and the information on the Internet about my father, and most of it is wrong. After talking to his closest friends, I decided I would set the record straight." "The Irish King Of Winter Hill: The True Story of James J. "Buddy" McLean" outlines the rise of Buddy McLean from his humble beginnings as a hard working truck driver, to leading the now infamous Winter Hill Gang, to his murder in 1965.
The book was published by SBPRA. Robert Fletcher, CEO of SBPRA said, "We love publishing quality and timely books like this. Sales are very strong and we look forward to more success with our author, Mr. McLean".
For complete information, please visit: "The Irish King Of Winter Hill".
Media Contact:
SBPRA
Attn: Media Relations