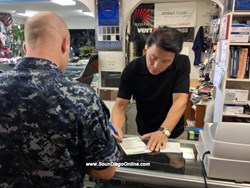 We truly make financing a new car stereo in San Diego a simple process.
San Diego, CA (PRWEB) February 10, 2014
SoundiegoOnline.com now has car stereo financing in San Diego with no credit check and instant approval available. A customer can simply go to the Snap Instant Finance Application located on the Soundiego online website and complete the customer application form. With the new "Snap" financing options now available, the approval process is streamlined and customers get a response within seconds. Approval amounts are based on banking information, employment information and a few other factors.
To make things even easier, SoundiegoOnline customers can complete the lease/purchase agreement by e-signature for their new car audio equipment. Their payments are deducted from their banks checking accounts monthly. "We truly make financing a new car stereo in San Diego a simple process," said James Kim, the SoundiegoOnline store manager. "This innovative process makes it easy to purchase the new car audio equipment you need today and you will have up to a year to pay it off, and a lot of customers love that option," continued Kim.
There are also flexible payment options available, including Snap's 100-Day Cash Payoff and the Early Buyout Discount. This makes it easy for customers to enjoy their new merchandise. Visit SoundiegoOnline today for our San Diego car stereo sales and specials.
About Soundiego Online:
http://www.soundiegoonline.com/ offers - Car alarm installation, car stereo installation, motorcycle stereo installation, radios, subwoofers, amps – it's all here, outstanding service and quality mobile electronic products. Since 1991, SOUNDIEGO has been THE one-stop destination for all car stereo installations, car alarms and car audio. All car alarm and car stereo installations are guaranteed. All manufacturers' products are protected by warranties.