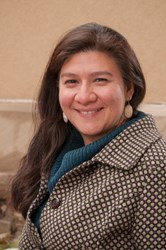 'Magda King lives and breathes customer service and is an incredible ambassador for Vail,' says Vail Valley Partnership CEO Chris Romer.
(PRWEB) February 07, 2014
Magdalena King, assistant general manager of the Antlers at Vail hotel, was honored as Hospitality Professional of the Year at the 11th annual Vail Valley Partnership Success Awards at the Vilar Performing Arts Center in Vail on Friday. In addition to a strongly "people first" management approach that has won her fans from her staff to Antlers guests to the Vail, Colo., business community, King has set a goal of helping all of her housekeeping staff get GEDs that included forming a Spanish-language book club to boost literacy.
Given annually, the Vail Valley Partnership's Success Awards honor the "'best of the best' of Colorado's Vail Valley business community," says VVP president and CEO Chris Romer, who adds, "Magda King represents all you could hope for in the award category of Hospitality Professional of the Year. She lives and breathes customer service and is an incredible ambassador for Vail and for the Antlers."
Antlers General Manager Rob LeVine concurs, writing in a blog post on the Antlers at Vail website about King's honor, "It's so nice to know that others recognized what we already knew … that nobody could possibly be more deserving of this recognition. In addition to the countless examples of her professionalism (and everything that entails), Magda constantly inspires me and everyone else around her, to be more professional as well."
The 11th annual Vail Valley Partnership Success Awards honor "organizations and individuals focused on customer service, community engagement, innovation and employee involvement," says Romer. The Vail business community nominates candidates for awards in 14 categories, with finalists and winners selected by the VVP Success Awards Committee. In addition to King's win for Hospitality Professional of the Year, 2014 Success Awards ranged from a "Most Uniquely Vail Valley" award for Crazy Mountain Brewing to "Nonprofit of the Year" for SOS Outreach. A complete list of winners is available here.
King, who was promoted to assistant general manager at the Antlers at Vail in 2012, says about her management style: "As assistant GM it is my duty to oversee the entire operation of the hotel; however it's my personal approach not to focus on the task but on the person. I am sure that if our employees are satisfied, good professional results will follow."
Born in Guayaquil, Ecuador, King is also conscious of her role as a Latina businesswoman. "I am a minority in our hospitality professional world," she says. "With humility but resolve, I would love to set an example for women who come to this country thinking that they can only do housekeeping or trade jobs." King's focus on education for her staff is part of that resolve. "Because I am a passionate learner, we set a goal for each housekeeper and houseman of our hotel to get his/her GED degree. We've begun this process implementing the basics – a book club discussion! We are active members of the literacy community and our entire housekeeping staff has already read three books and held book discussions with the Town Librarian."
COMPANY INFORMATION:
The Antlers at Vail hotel offers a unique Vail lodging experience in a relaxed mountain setting and was recently awarded a TripAdvisor Certificate of Excellence for consistently outstanding traveler reviews. With condominiums ranging from studio suites up to four-bedroom penthouses, every unit at the Antlers enjoys a fully-equipped kitchen, fireplace, private balcony, daily maid service, free wi-fi and free parking. The Antlers has an A+ location on the banks of Gore Creek, just steps from restaurants, galleries, shops, free Vail town shuttle and the Lionshead Gondola. And Antlers' staff is always ready to help with – and offer an insider expert take on – dinner reservations, activities or any other guest request. For more information, call 1-800-843-8245 or visit http://www.antlersvail.com.
CONTACTS:
Rob LeVine, General Manager, The Antlers at Vail, RLeVine(at)antlersvail(dot)com, 970.476.2471; Anne Parsons, WordenGroup Public Relations, anne(at)wordenpr(dot)com,303.777.7667