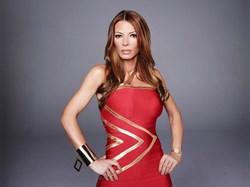 Staten Island, NY (PRWEB) February 06, 2014
Not satisfied with simply being one of VH1's "Mob Wives," Drita D'Avanzo has decided to become a Lady Boss.
Hey, love her or hate her (and if the SILive comments sections are any indicator, LOTS of people feel both ways), this woman is busy.
The lean-and-mean reality TV diva will host the grand opening of her new store, Lady Boss, from 6-9 p.m. Feb. 7 at 65 Page Ave., Tottenville.
Drita's guests will have the opportunity to preview Drita's makeup collection, schedule makeup appointments with her personal staff, and get live make up tips by from the Lady Boss herself (all the while rubbing shoulders with "surprise reality stars and 'Mob Wives' cast members in attendance).
Guests will enjoy passed "hors d'oeuvres" from Ama Ristorante of New Jersey and Formaggio Cheese, drinks compliments of Alibi Whiskey and alcohol infused cupcakes by The Drunken Ladies.
Brooklyn's DJ NYCE will spin the soundtrack.
Sponsored by BEACH BUM TANNING who will provide gifting.
ABOUT THE LADY BOSS: "Mob Wives: New Blood," now in its fourth season, is an American reality television series on VH1 that made its debut April 17, 2011. It follows a group of Staten Island women after their husbands or fathers are arrested and imprisoned for crimes connected to the Mafia.
Drita works as a freelance makeup artist. Her husband, Lee D'Avanzo, was in prison for his second conviction in Season 1. They have two daughters: Aleeya, who was 9 in Season 1, and Gizelle, who was 3.
Lee is the son of the late Lewis D'Avanzo, an estranged cousin of Rudolph Giuliani. Drita comes from a strict Albanian household who defied her parents and married someone outside the community -- an Italian.
She grew up different from the other women on "Mob Wives." She was raised in the "projects of Staten Island" after her family settled there from Albania. Her father, a strict soccer coach, raised her to be tough and play with the boys. She was never allowed to cry, and had to do hundreds of push-ups and sit-ups a day to meet her dad's high standards.
Drita was invited to play for the Women's National Soccer Team and was all set to go until she met her first love, "the streets." When her hubby hit the slammer, she vowed to stand on her own two feet in case she is ever "left in a position like this again."
She studied to become a make-up artist and worked for various high-end cosmetic companies while her husband was away. As a mother of two with a husband in jail, she struggles to keep it all together while figuring out if this is a lifestyle she wants to continue to live. Currently, she freelances as a make-up artist and has her own Lady Boss cosmetic, apparel and jewelry line.