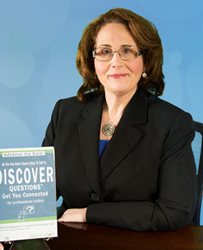 The magic of DISCOVER Questions™ comes in mastering the process of thinking strategically before you ask a question.
San Jose, CA (PRWEB) February 09, 2014
Deb Calvert, author of the DISCOVER Questions™ book series, will be a guest on the February 11 broadcast of The Sales Professional Network at 7:30 pm (EST) titled "Are you a Sales Robot, slave to the Corporate Process?"
Calvert has worked as a sales productivity specialist and sales researcher since 2000. Her company, People First Productivity Solutions, offers customized sales training programs designed to improve sales productivity.
She will be discussing her simple method to humanize your sales process so you no longer feel like a corporate robot. Her book, "DISCOVER Questions™ Get You Connected," was a finalist for Top Sales & Marketing Book of 2013.
The Sales Professional Network is an online radio show that showcases provocative issues facing sales professionals today. Its focus is on topics that are relevant to all industries, with the commonality that all sales professionals face similar challenges every day. "TSPN sincerely was designed to create a forum where we can discuss these challenges and come up with solutions/best practices to those challenges," says the show's host.
The host of TSPN is Andre' D. Harrell, CEO of AH2 and Beyond Consulting. Harrell has over 20 years of experience as a consultant in sales, marketing, training and commercial operations backed by a Six Sigma certification.
Tune into this broadcast and be sure to call in live with your questions to (347) 838-9979.
DISCOVER Questions™ Get You Connected is available on Amazon.