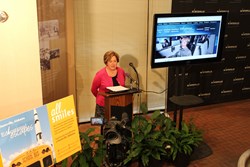 To assist student/youth group leaders and tour operators, Huntsville/Madison County CVB staff are also available to help groups create customized tour itineraries.
Huntsville, AL (PRWEB) February 07, 2014
Student group tours are big business in the United States, making up a $31 billion dollar industry, according to a 2013 report by the American Bus Association Foundation. The Huntsville/Madison County Convention & Visitors Bureau (CVB), with the addition of the new Educational Escapes website, aims to offer a centralized online location where educators and students can learn more about the out of this world… and out of their classroom …educational opportunities in Huntsville/Madison County.
The website includes 41 educational experiences grouped into six different fields of study: Science, Social Studies, Technology, Mathematics, Language Arts and Fine Arts. Information on performance opportunities, voluntourism (volunteering while traveling), and other activities are also included on the website. Program lengths vary from one hour to two and three days. To assist student/youth group leaders and tour operators, Huntsville/Madison County CVB staff are also available to help groups create customized tour itineraries.
The CVB's Educational Escapes program came about in 2005 through a partnership with local attractions and education directors.
"Each of our attractions was already offering exceptional educational programs, and we wanted to do our part to promote that to the nation's student group tour industry as well as educators in our community, state and region," President and CEO of the Huntsville/Madison County CVB Judy Ryals said. "This new website will help us further our mission to spread awareness about our community's educational opportunities to a national and even international audience."
With teachers and administrators constantly looking for educational opportunities that complement what's happening inside the classroom, Executive Director of the EarlyWorks Family of Museums Bart Williams explained the importance of focusing on educational programs to bring visitors to the Rocket City.
"Educational Escapes is a fantastic means to gain attendance at our hands-on learning programs from outside our traditional markets," Williams said. "Huntsville offers so many great experiential learning opportunities for students, and Educational Escapes helps share them with the entire country. The fact that a teacher can package the entire Huntsville experience so easily really makes it a worthy program."
Dr. Julie Finley, Vice President of Educational Initiatives at the U.S. Space & Rocket Center, highlighted the power of educational programs to draw groups into the area.
"The U.S. Space & Rocket Center is proud to serve our local community with exciting feature exhibitions and immersive educational programs, but the reach of the Center spreads much further than the Tennessee Valley. Last year, the Center hosted more than 585,000 guests, and trainees and educators came to Huntsville from all 50 states and more than 60 international locations to experience Space Camp and Aviation Challenge."
William McInnish, Technology Educator from Louis Pizitz Middle School in Vestavia Hills, Alabama, is a testament to the quality of the program. Pizitz has brought student groups to Huntsville for many years and is especially interested in the technology aspects of the Educational Escapes program.
"Technology education is about helping kids find a life passion, and experiences from the Educational Escapes program provide help in this process," McInnish said. "The fieldtrips provided through the program provide education not accessible in the classroom."
Educational Escapes is a nationally marketed program by the Huntsville/Madison County CVB.
For more information, please contact Jessica Carlton at jessica(at)huntsville(dot)org or 256.551.2294
###