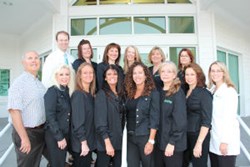 Palm Harbor, FL (PRWEB) February 06, 2014
Sleep apnea sufferers can resolve to receive treatment from Dr. Dan Knellinger and Dr. Stacey Verkler. Sleep apnea is a very serious medical condition that can remain undiagnosed for years. People suffering from sleep apnea actually stop breathing while they are sleeping, which deprives the brain and body systems of oxygen. Dr. Knellinger and Dr. Verkler now offer sleep apnea treatment in Palm Harbor, FL by using dental appliances and behavioral change.
There are two different types of sleep apnea; obstructive sleep apnea and central sleep apnea. Obstructive sleep apnea is the most common type of sleep apnea and is a sleep disorder where breathing during sleep repeatedly stops and starts. Obstructive sleep apnea occurs when throat muscles periodically relax and block airways during sleep. The most typical sign of obstructive sleep apnea is snoring. Generally, obstructive sleep apnea affects middle-aged, overweight adults but commonly exists in other populations. Dental professionals treat obstructive sleep apnea with dental devices that open the airways while sleeping.
Central sleep apnea, just like obstructive sleep apnea, is where breathing stops and starts repeatedly during sleep. Central sleep apnea happens when the brain does not send the correct signals to the muscles that control breathing. Central sleep apnea is not treated with oral appliances.
Treatments for sleep apnea can include behavioral changes like dieting, exercise, smoking cessation and sleep position. Dental appliances can also be used, either alone or in combination with behavioral changes. People looking for sleep apnea treatment in Palm Harbor, Fl should contact Dr. Knellinger or Dr. Verkler. For more information on sleep apnea and the services offered by Dr. Knellinger and Dr. Verkler, call (727) 785-3383, or visit their website at http://www.palmharbordentistry.com.
About the Doctor:
Knellinger Dental Excellence is a general practice offering patients personalized dental care in Palm Harbor, Florida. As a father-daughter team and Palm Harbor natives, Dr. Knellinger and Dr. Verkler both attended the University of Florida and University of Louisville School of Dentistry. They are part of one percent of dental professionals providing the LANAP FDA cleared laser procedure for gum disease treatment. To learn more about Knellinger Dental Excellence and their services visit their website at http://www.palmharbordentistry.com and call (727) 785-3383.