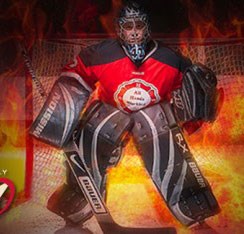 Firefighters are at a significantly higher risk of heart attack while on the job, a job that's equivalent to being a professional athlete 40+ hours a week
Neptune, NJ (PRWEB) February 07, 2014
On February 9th, 2014 the annual Redline Classic Hockey game takes place in Atlantic City, NJ. All Hands Fire Equipment has partnered with the All Hands Working charity and Leary Foundation to raise funds to purchase exercise equipment for firefighters.
Donald Colarusso, CEO and founder of All Hands Fire commented, "We are thrilled to be able to contribute something to such an important cause. The All Hands Working charity as well as the Redline Classic support firefighters in a phenomenal way." Mr. Colarusso has been a firefighter for over 20 years as well as a fire safety trainer, "Exercise equipment is as vital to a firefighter as it is to a professional athlete, such as a hockey player." He founded the All Hands Fire Equipment company with the goal of providing top-notch safety and survival equipment for firefighters.
"All Hands Working has identified that firefighters are at a significantly higher risk of heart attack while on the job, a job that's equivalent to being a professional athlete 40+ hours a week. Their support and resource services can reduce that risk significantly. The Redline Classic is an amazing event that combines fun, competition, and a very worthy cause."
Learn more about the organization and the Redline Classic annual fundraising hockey game at http://theredlineclassic.com/all-hands-working-charity/.
More About All Hands Working and the Redline Classic:
All Hand Working is a charitable organization that gives back to the fire service by providing training and resources to reduce the risk firefighters take every day on the job. The Redline Classic game, taking place February 9, 2014 at 2:pm in Atlantic City includes NHL alumni from the NJ Devils and PA Flyers. Learn more about it and how to purchase tickets at http://www.allhandsfire.com/All-Hands-Working.
About All Hands Fire Equipment
All Hands Fire Equipment strives to provide the best tools for the toughest job. This is a family-owned NJ fire safety company who provides fire safety equipment, training, and consulting services.
Contact information:
All Hands Fire Equipment
506 Atkins Avenue
Neptune NJ 07753
Email: sales(at)allhandsfire(dot)com
Follow All Hands Fire Equipment on Facebook at http://www.facebook.com/AllHandsFire and on Twitter at http://twitter.com/allhandsfire