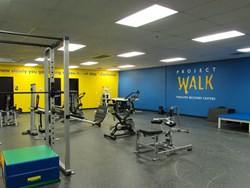 There is no other facility like this in Las Vegas.
Las Vegas, NV (PRWEB) February 10, 2014
Project Walk Paralysis Recovery Center is excited to bring their world-renowned activity-based recovery services to the city of Las Vegas, NV. As the second franchised location to open its doors, Project Walk has set up shop at 365 Pilot Rd., Las Vegas, NV 89119, and is now seeing clients.
Project Walk is the pioneer in activity-based recovery with nearly two decades of experience. It's the Project Walk mission to provide an improved quality of life for people affected by mobility related disorders. Based on The Dardzinski Method, Project Walk has established itself as a global leader in activity-based recovery through its unique approach to improving function below the level of injury.
With the addition of its Las Vegas location, Project Walk will now be available to bring its services to those unable to travel to the California centers.
"We are thrilled to bring the Project Walk brand to the city of Las Vegas," says Brian Malkinson, Director of Operations. "With this new franchised location, Project Walk can offer its world class programs and training services to the local disability population."
"There is no other facility like this in Las Vegas," says Project Walk – Las Vegas Facility Manager, Stacie Wichman-Roch. "It's a humbling and exciting opportunity to help people suffering from paralysis." She adds, "I have witnessed the Project Walk method firsthand in my husband who suffers from a spinal cord injury, and it's something that can only be experienced at a Project Walk center."
Project Walk – Las Vegas is now accepting applications and can be filled out at http://www.ProjectWalk.org.
For more information on Project Walk – Las Vegas, you can also visit the locations section of the website.