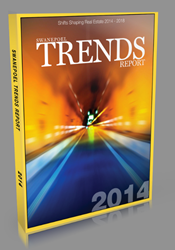 2014 will be better for real estate than 2013.
Orange County, CA (PRWEB) February 10, 2014
In 2014 hundreds of new regulations created by the CFPB will become law, the majority of Prudential real estate offices will convert to Berkshire Hathaway HomeServices, Redfin will most likely go public, Zillow or Trulia will pull off another astounding acquisition, and Keller Williams Realty will pass a 100,000 agent count. We will also see a race by Realtors® to secure their dot REALTOR® high level domain, RE/MAX will buy back more of its regions, HomeServices of America will add another two great independents to their portfolio, and most agents will have a better year in sales than they did the last two years.
These and more bold predictions are contained in the opening chapter of the 2014 Swanepoel TRENDS Report. This is the 9th edition of this 160-page, widely respected annual report by New York Times Bestselling author Stefan Swanepoel. His 30,000-foot purview and 20-year research of the industry has been a mainstay and constant in this changing industry. "Tracking trends is most certainly a complicated business," says Swanepoel, who has, over the last two decades with 25 books/reports, written more on real estate trends than any other person.
"2014 will be better for real estate than 2013, but barely. Interest rates and inflation will remain low and while oil will continue to fluctuate it seems to be heading lower. Homeowners have equity in their homes again and consumer confidence is much stronger. There is lots of pent-up consumer demand and the stock market is testing new record highs. We see most companies sitting on surplus cash and acquisitions are a safer bet than organic growth, so expect to see a large number of them," says Swanepoel.
In the U.S. approximately 400,000 agents work for the 10 largest residential real estate franchise brands, of which some 250,000 agents are now affiliated with a public company (directly or indirectly through a publicly-traded holding company). That's a huge swing away from the more traditional "Mom and Pop" cottage type industry we had two decades ago. Most certainly over time this will gradually shift the industry to a more professionally managed corporate business environment.
According to Swanepoel, Realogy Holdings Corp. had a strong year-over-year increase in home sale transaction volume in 2013. Their combined operations incorporate approximately 13,600 offices with 244,000 independent sales associates, which puts them #1 in the residential real estate business by a large margin. HomeServices of America, a Berkshire Hathaway company, completed its first year of operation after the acquisition of Prudential Real Estate Affiliates and Real Living late in 2012. In the short span of a few months late in 2013 they successfully converted tens of thousands of agents to the new national brand—Berkshire Hathaway HomeServices. Although "conversions" will keep this group very busy for most, if not all of 2014, a high-end and commanding new brand in real estate has been born and will unquestionably be a major force for decades to come.
Netting some $225 million from a successful IPO in late 2013, three times as much as Trulia ($89.4m) or Zillow ($75.7m), this entrepreneurial driven business, RE/MAX, is still led by its co-founders (David and Gail Liniger) who continue to own approximately 61 percent of the company.
The Swanepoel TRENDS Report features 10 key trends in 10 chapters exploring areas such as Multiple Listing Services, Mobile and Wireless technology, Web Portals, Branding, REALTOR® Trade Associations, 'Do It Yourself' Real Estate Business Models and even an analysis of the Consumer Financial Protection Bureau and its potential impact on the residential real estate brokerage business.
Swanepoel is also the author and publisher of the Swanepoel Power 200 (SP200), the most comprehensive annual published list of influential CEOs and Thought Leaders. He has served as president of seven companies and two non-profit organizations, and his academic accomplishments include a bachelor's in science and a master's in business economics.
For more details on any of the trends research visit http://www.retrends.com