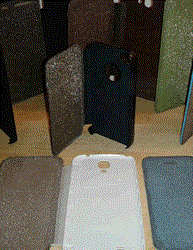 RF Safe flip covers are the only radiation shielded phone case in the world that puts a shield between the cell phone and user
Palo Alto, California (PRWEB) February 06, 2014
According to John Coates, Founder of RF Safe, "If you carry a cell phone on you, you need an anti-radiation phone case to deflect radiation away for you. Your phone is constantly emitting potentially dangerous radio-frequency radiation and it is affecting your body. You may be experiencing the effects of this harmful radiation now, yet have no idea where the effects are coming from. A cell phone case that reduces exposure to cell phone radiation may be just what you need."
RF Safe Flip Case deflects only the microwave radiation directed towards the cell phone user when its shielded flip cover is located between the user and device. By deflecting only radiation that would have been absorbed by the user, the phone will still operate normally without increasing the output power of the phone's transmitter.
Cell phone EMR (Electromagnetic Radiation) has been shown to have numerous adverse effects on the human body like headaches, insomnia, neurosis, an increase in stress and even brain cancer. Studies have found that people with only an hour's exposure to cell phones have a significantly higher chance of these effects than people that do not regularly use a mobile phone. RF Safe's Flip cover anti-radiation phone case can help by cutting down the amount of exposure that you have to cell phone radiation on a daily basis.
RF Safe Flip cases for cell phones incorporate the highest grade silver plated radio frequency radiation shielding fabric. Take a proactive approach to cell phone radiation safety, no matter if a cell phone is carried in a pocket, pants or purse – as long as the shielded flip cover is between the phone and body, radiation from the front of the phone is being deflected away from the user.
There are quite a few cell phone radiation protection cases and anti-radiation phone cases on the market today, but only RF Safe has offers a shielded flip case that puts scientifically proven shielding technology between the user and cell phone. Radiation from a cell phone travels in a straight line, just like light from a light bulb. It's important to understand this because RF Safe flip covers are the only radiation shielded phone case in the world that puts a shield between the cell phone and user.
Most cell phone companies recommend that users do not carry their phone less than an inch from their body. This is a problem when simply carrying a cell phone in a shirt or pants pocket, even on a belt-buckle - users are exposed to mobile phone radiation much closer than suggested for safe phone usage. The solution is keeping a shield that microwave radiation cannot penetrate between the user and device.
RF Safe's radiation shielded flip cases are available for most smart phones on the market and universal shielded flip cases are also available for phones without a custom made case.
There have been very disturbing stories in the news of very young healthy women that have carried their cell phones in their bra and developed breast cancer. Although more studies will be needed to confirm these incidents they are a definite red flag for potential danger. There is an old saying that states, "better safe than sorry." Cell Phone Radiation is very real and you should take necessary precautions to protect yourself and family, like using a simple, yet important protective device like RF Safe's anti-radiation cell phone flip cases.
For information on RF Safe Flip Cover Phone Radiation Cases, visit http://www.rfsafe.com
ABOUT RADIO FREQUENCY SAFE – RFSAFE.COM
RF SAFE is the world's premier provider of cell phone radiation protection accessories and informational data. Since 1998 RF (Radio Frequency) Safe has been dedicated to evolving the wireless industries safety standards, by engaging in the business of design, testing, manufacture, and sale of safety technologies to mitigate harmful effects of cell phone radiation.